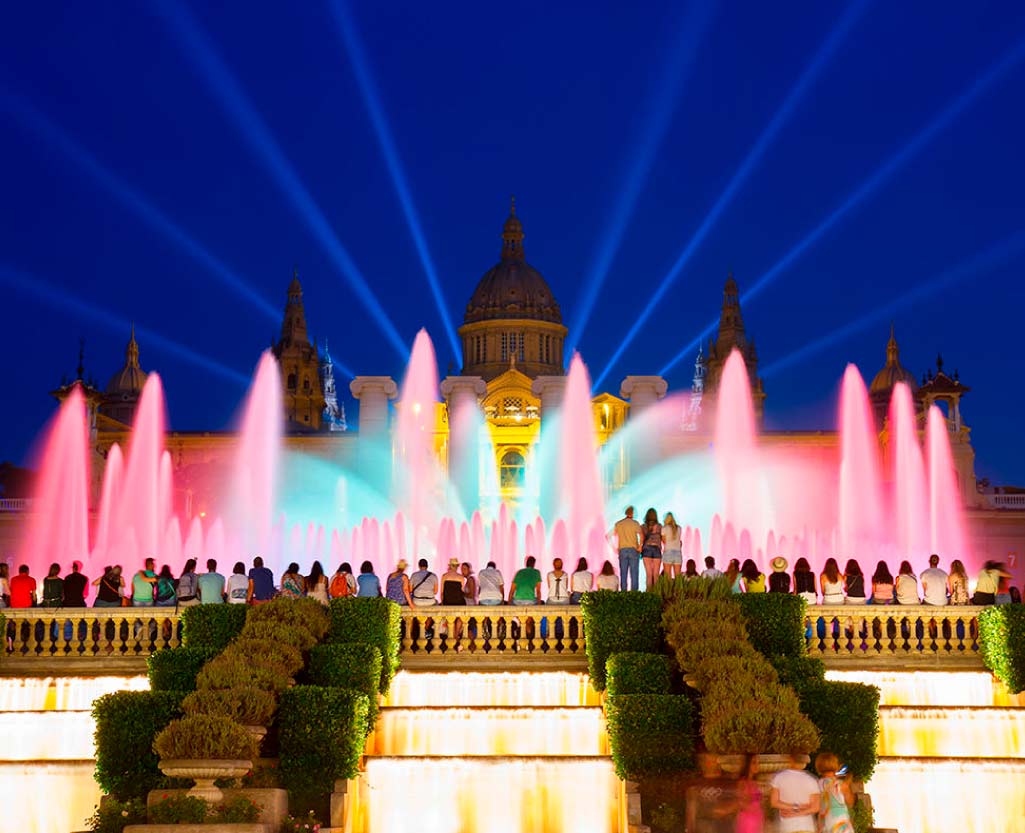 Barcelona City Tour : Highlights around town
If you visit this city, we'll take you through a Barcelona City Tour in this article. In the previous article we talked about the Sagrada Familia and Gaudi's Barcelona. This time we want to expand our horizons and tell you all there is to know about the "Ciudad Condal". We will explore the different areas of Barcelona where you can find different activities for everyone.
Art and Culture:
Barcelona is known for having a great cultural heritage. Nevertheless, there are different areas that explore different periods of the city's history. Neighborhoods such as "El Raval" and "Ciudad Bella" are located in the centre of the city. They are divided by one of the most representative streets of Barcelona "La Rambla".
A tour around Barcelona and the Gothic Quarter:
Cathedral of Barcelona
Among the different areas of Barcelona, the oldest part of the city is the Gothic Quarter. One of the most important stops in this area is the Gothic Cathedral.
This church is also known as the Cathedral of Barcelona, which was built back in the XIII century. You can admire the amazing view from the outside, but the interior is just as attractive.
The entrance fees start from €9 per person. This includes entry to the choir, access to the roof terrace and a virtual audio guide.
Take a quick peak at "La Boqueria"
As you continue with your Barcelona city tour, An essential stop is the Boqueria Market. This is one of the oldest markets in Europe. They have found documents confirming the presence of stalls selling meat as early as 1217. This means that the market has existed for more than 800 years! It is also a hot spot where locals and foreigners meet to buy their local groceries. If you visit "La Boqueria", you should stop by at least one of the many stands to taste the real local gastronomy.
Visit Gaudi's first work
In the middle of the Gothic Quarter is the "Plaza Real" or Royal Square. In order to admire Antoni Gaudi's first project, it is best to visit this square at night. Look at the street lamps where you will find the first of many works made by our modernist genius. In 1890, the "Plaza Real" was the centre of Barcelona and today it is a very small square. We strongly advise you to sit down and enjoy the contrast between the palm trees and the street lamps. You will be looking at Gaudi himself.
A Tour around L'Eixample and Paisseig de Gràcia
Probably one of the most emblematic walks in Barcelona is the Passeig de Gràcia. From the "Plaza Catalunya" to the "Diagonal", you can find a walk worthy of royalty. This walk includes various stops that have made Barcelona one of the most famous cultural capitals of the world. The work of Gaudi can be admired in several spots such as "La Pedrera" and "Casa Batlló". Since the 1900s, this street has been one of the most exclusive areas to live in Barcelona. Today, Passeig de Gràcia is known for being the central business district of Barcelona.
Visita el templo del FC Barcelona – Camp Nou
It is a fact that Barcelona has an incredible cultural heritage, but the most visited museum in the city is the FC Barcelona museum. It is a must for all football fans. More than 1.5 million people visit this museum every year.
Just after the "Museo del Prado" and "Museo Reina Sofia", it is the third most visited museum in Spain. Prices for a visit range from €28 to €58 depending on the tour you book.
Beach and Water Sports Activities
La Barceloneta
The most famous and most visited beach in Barcelona is Barceloneta. The seafront promenade covers 580 metres of sandy beach where you can find different activities. Restaurants, sports areas, bicycle rental, and rental of sun loungers are the main activities if you want to spend your day at the beach. An interesting fact about the Barceloneta is that it is an artificial beach. During the Olympic Games of 1992, the city council decided to create a beach to attract tourists. Therefore, they loaded sand from deep waters and placed it on the beach.
Water Sports Activities
Walking along the beach in Barcelona, there are several places where you can find water activities. You can find diving, paddle surf, jet skis, flyboard, water bike and parasailing.
Transportation
Barcelona Airport "El Prat"
A tour around Barcelona has become one of the most visited city tours in the world. In 2019 alone, the airport registered 52.6 million arrivals during the year. The airport is located 12 kilometres away from the city centre. Nevertheless, the railway connection between the airport and the city has been drastically improved over the last 10 years.
Barcelona Metro
The Barcelona metro has 8 lines, 161 stations and on Saturday nights it runs 24 hours a day. Barcelona has probably the best public transport system in Spain. Getting from one place to another using the metro line is quite easy. We strongly advise you to buy a T – usual card, which has 10 trips included for only €11,35. You can use these 10 journeys whenever you want in zone 1 of Barcelona.
Food and Shopping
It is true that we would have to write another article to describe what Barcelona has to offer in terms of gastronomy. However, we have chosen to write about one of the most emblematic places in the city.
El Nacional Barcelona
Located in the heart of Passeig de Gràcia, El Nacional is a must-see during your visit. It is the first restaurant in Barcelona with different areas where you can enjoy traditional recipes from the Peninsula. They are all prepared with high quality products and in a unique atmosphere. It reflects the social and cultural life of Barcelona. You can find four different restaurants depending on your selection, each with a distinct touch of Mediterranean gastronomy.
A tour around Barcelona Shopping
In terms of fashion, Barcelona has made huge progress in the last decade. It is one of the most influential new cities in the fashion world, sometimes paired with London or Milan.
La Rambla
This street has become one of the new hot spots of Barcelona for shopping purposes. Local brands such as Mikakus, Custo Barcelona, and Desigual have taken part in this fashion upgrade. The local brands mentioned are all affordable enough for all types of public. However, you can also find local crafts and shops that are made by local people. In "La Rambla", you will find not only fashion, but also an endless number of souvenir shops, restaurants and bars. The mix of shops on this street can sometimes be overwhelming as there is so much to see.
Passeig de Gràcia
During your Barcelona city tour you must visit the most luxurious street for shopping. If you walk around Passeig de Gràcia, Gaudi's work is not the only thing that stands out. Luxury Brands such as Prada, Luis Vuitton, Max & Co, among many others, light up this exclusive street with elegance. If you are looking for a more extravagant and professional shopping experience, this is the place for you. Otherwise, you can always take a walk around Barcelona's most exclusive street.
Sightseeing
If you are walking around Barcelona you can visit one of the following sightseeing spots. A tour around Barcelona is breathtaking.
Vista del castillo de Montjuïc
One of the most attractive views of Barcelona is the Montjuic Castle. Thanks to the privileged location of the Castle, on top of Montjuïc hill, visitors can enjoy superb views of Barcelona and its surroundings.
The tickets cost €5 but entry is free on Sundays after 3pm. At the top of the castle, there is a 360-degree lookout point where you can have a complete view of Barcelona with the Mediterranean sea in the background.
Park Guell
One of the most visited places in Barcelona and where people take the most pictures. Park Güell has one of the best viewpoints in Barcelona. In addition to green areas and many works of Gaudí, Park Güell has spectacular views of the neighbourhood of Gràcia and the Sagrada Familia. Entry costs €8 per person, but you have the opportunity to visit one of Gaudi's jewels in Barcelona.
As you have seen, Barcelona has an almost endless amount of places to visit. We highly recommend that you take a tour in the different streets of Barcelona. If you are looking for a deeper insight into the history and culture of this city, you can also come to our Free Tour Barcelona where we hope to make your experience memorable.