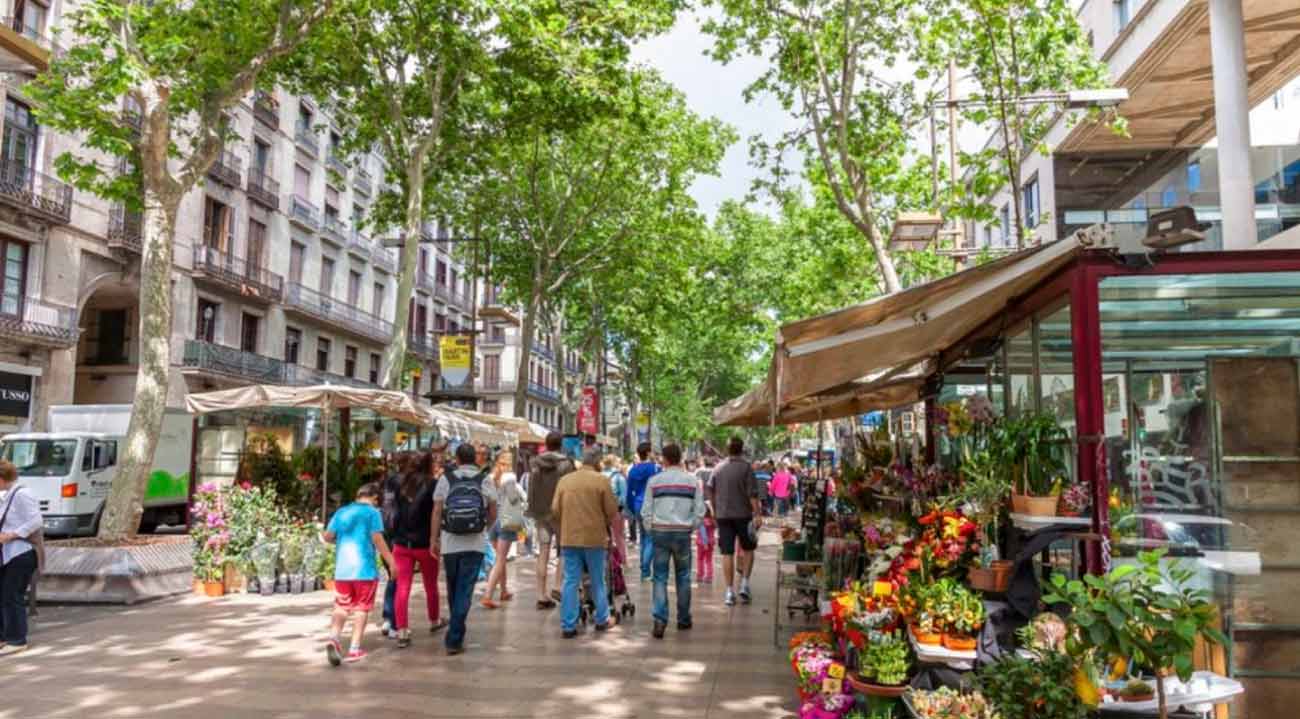 Barcelona in 3 days, the best of the best you should visit
Short business trip to Barcelona? Do you want to get to know this beautiful city during your short stay, but don't know where to start? We will give you a quick guide to see Barcelona in 3 days. 
What do you think? This way you can get to know the highlights of the Catalan city, without missing anything.
If you're still here, it means you are interested in this tour, so let's get started!
FREE WALKING TOUR: BARCELONA IN 3 DAYS
In this quick tour, we will mention the most famous and iconic places in Barcelona, ​​although they are not the only beautiful places that the Catalan city has. 
If you have more time to visit Barcelona, ​​we recommend you to read other of our blogs in which we give you the top of the most beautiful places in the city.
In the meantime, let's start with our quick tour of Barcelona.
1. Sagrada Familia, first place of our tour of Barcelona in 3 days
We will start our tour in one of the most famous places in the city, the temple of the Sagrada Familia. This temple was built in the 19th century by Gaudì, a famous architect from Malaga who distinguished himself by his great architectural works. His works were based on Catalan modernism.  
Moreover, the Basilica of the Holy Family being his most precious work, this temple became his obsession.
As additional information, this construction will be the tallest building in Barcelona and the highest church in the world at 172 metres high.
The Sagrada Familia combines elements of humanity, religion and nature. This has made it a UNESCO World Heritage site. 
You must visit this temple at all costs, we recommend you to go early as there are always huge queues to enter and see the majestic church inside.
ADDRESS: Carrer de Mallorca, 401, 08013 Barcelona, ​​Spain.
TIMETABLE:
November – February: 9am to 6pm
March: 9am to 7pm
April – September: 9am to 8pm
October: 9am to 7pm
25th and 26th of December: 9am to 2pm
1st and 6th of January: 9am to 2pm
2. Casa Batlló
Casa Batlló is considered Antoni Gaudí's most complete work, a great jewel of modernism. His work is located in the heart of the Paseo de Gracia, Barcelona's golden avenue. 
Gaudí clearly shows the art nouveau style in this architectural work, in which the structure represents the legend of Sant Jordi, which is one of the most important festivals in Catalonia.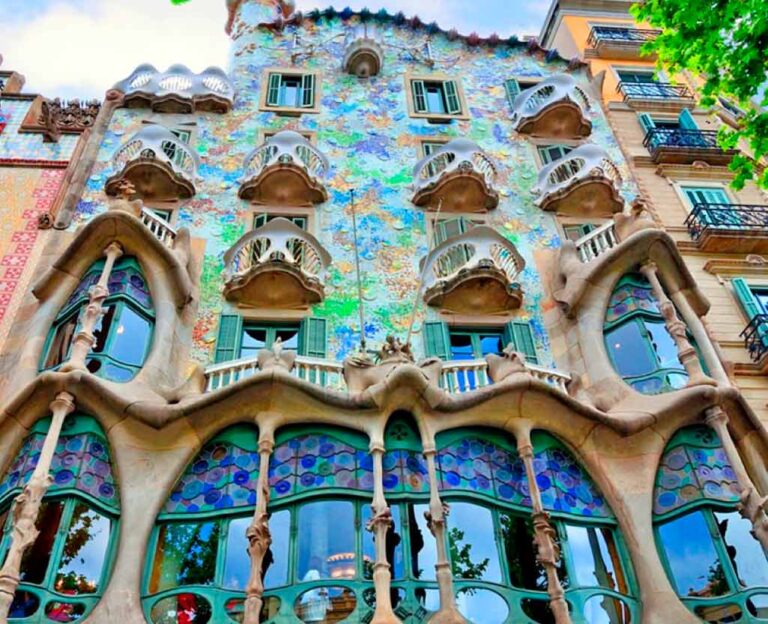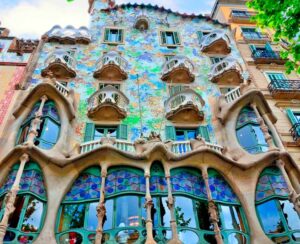 If you like modernism and Gaudí's architecture, you must visit this emblematic building. Observe the facade, the ceiling and the interior with their obvious modernist styles.
3. La Rambla
La Rambla in Barcelona is also known as Las Ramblas. This is an emblematic walkway of the city that is located between Plaza de Catalunya and the old port.
It is an area full of shops where tourists have a great time observing, shopping and walking through its streets. 
You can find thousands of travel items and souvenirs, as well as food and drinks throughout the visit.
4. Picasso Barcelona Museum
The Picasso Museum Barcelona, or in Catalan "Museu Picasso", has a collection of 4,249 works by the painter Pablo Picasso from Malaga in the multiple media he approached, which is the most complete in the world of works from his youth.
ADDRESS: Carrer Montcada, 15-23, 08003 Barcelona, ​​Spain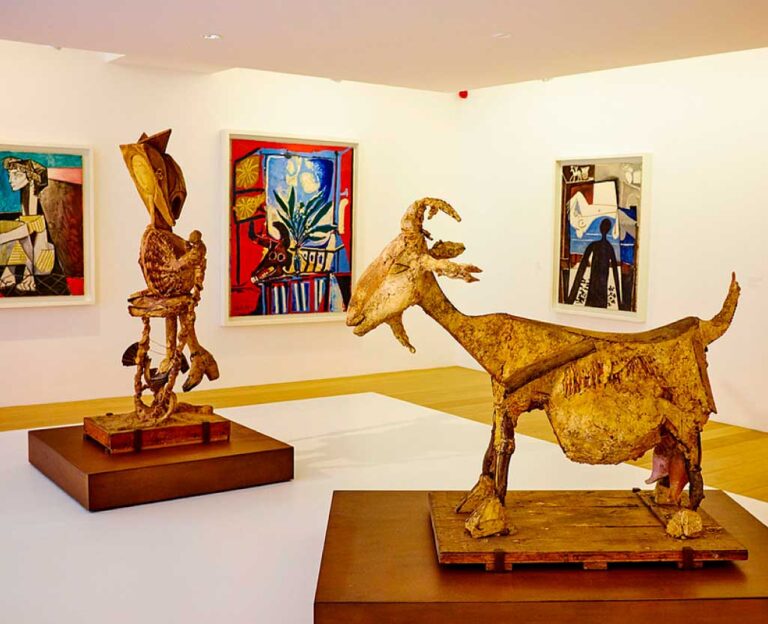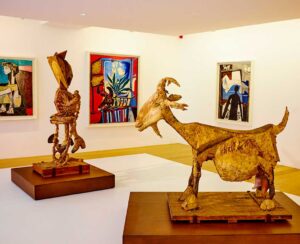 HOURS:
Monday: Closed
Tuesday: 9am to 7pm
Wednesday: 9am to 7pm
Thursday: 9am to 9.30pm
Friday: 9am to 7pm
Saturday and Sunday: 9am to 7pm
Free admission: Visitors under 18 years old.
5. La Boqueria Market
The San José Market, better known as La Boquería, is a municipal market located on La Rambla in Barcelona. Besides being a place where you can buy all kinds of fresh produce, it is also a tourist attraction.
ADDRESS: La Rambla, 91, 08001 Barcelona, ​​Spain
HOURS:
Monday to Saturday: 8am to 8.30pm
Sunday: Closed
6. Carmel Bunkers
If you want to enjoy a wonderful view of the city, you can go up to the Bunkers del Carmel, one of the best free things in Barcelona.
This viewpoint is located at the top of the hill of Turó de la Rovira and offers incredible panoramic views. This is one of the best places in the city to watch the sunset after a long day of walking in this Catalan city.
7. Gothic Quarter
The Gothic Quarter of Barcelona has many places that might catch your eye.
What can you see in the Gothic Quarter?
The Cathedral and its cloister
Plaza Sant Jaume
Casa de l'Ardiaca
Plaza de Sant Felip Neri
Barcelona City Council
Palau de la Generalitat de Catalunya
Plaza de Sant Josep Oriol
Plaza Real
MUHBA in Plaza del Rey
8. Magic Fountain of Montjuic
The Magic Fountain of Montjuic, or simply Fuente de Montjuic, will be your last stop of the short tour. 
It is the perfect place to spend a splendid night, located in the Carles Buïgas square in the Sants-Montjuïc district of Barcelona.
Here you can enjoy the play of lights in the water fountain, and to the rhythm of the music, the lights dance all night. This is a great end to a quick visit of Barcelona in three days.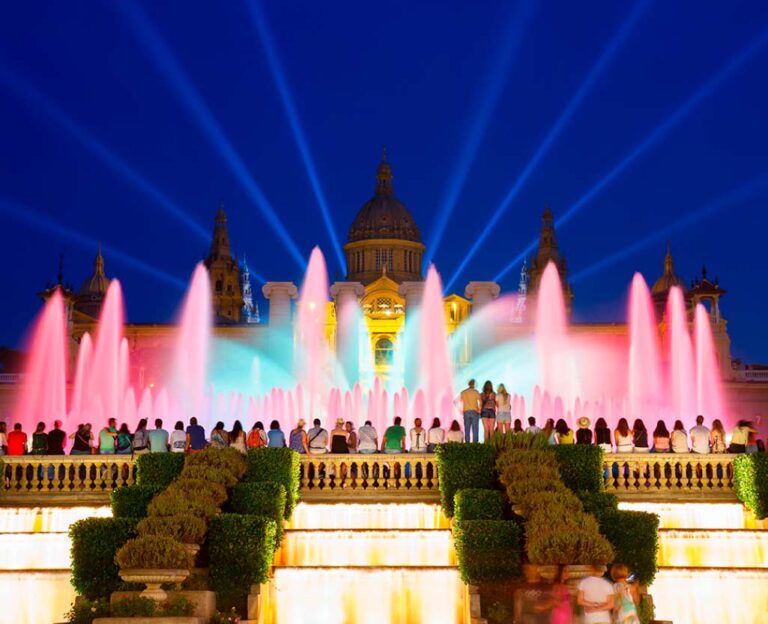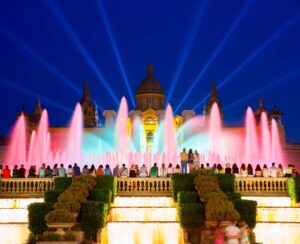 ADDRESS: Plaça de Carles Buïgas, 1, 08038 Barcelona, ​​Spain
HOURS:
Friday and Saturday: 9pm to 10.30pm, during the months of April, May, September and October.
Thursday – Sunday: 9.30pm to 11pm, during the months of June, July and August.