Pub Crawl Barcelona
23€

20€
per person
Bar Crawl Barcelona has arrived! Drink, meet new people and hit the dance floor across a wide variety of venues, cocktail bars and themed parties. Located in the heart of the city, explore the best bars and nightclubs in Barcelona with the help our guides.
4,89     
   on AirBNB
5 stars 
  on TripAdvisor
5 stars 
  on Viator
Pub Crawl Barcelona is here!
Barcelona is a city full of different options for everyone. The capital of Catalunya has stunning architecture, beautiful nature, delicious food and fantastic weather. Barcelona earns its reputation as a city with vibrant night life by offering plenty of pubs and clubs to choose from.
You will find many cool beach clubs, cocktail bars and great nightclubs in Barcelona. Many of these offer themed parties and events. Whether you want to have a quiet drink or a night on the dance floor, this area has something for everyone.
However, with so many options, it may be little bit tricky to decide where to exactly go. Here we can definitely help you out! If you are looking for a fun nightlife experience, then join with our Barcelona Bar Crawl. Great opportunity to see local nightlife, visit some of the best pubs and clubs and meet new people.
Join others to enjoy Barcelona's great bars and clubs, meet people, expats, and locals. So, come out for a drink with us and join our nightlife Barcelona tour!
With us you feel safe and you don't have to think about your Spanish. Our team of local experts will take care of everything. You just have to join us and explore the nightlife of the city.
What you get in our nightlife tour:
Take advantage of free shots, VIP entrance to famous clubs in Barcelona (from electronic music to hip hop). We'll lead you through a safe and friendly route where you'll experience the best bars and pubs in the city.
Visit the best nightclubs in the Eixample district, north of La Rambla. Awarded as the best neighbourhood in the world by TimeOut magazine in 2020.
Our team and founders have experience organising pub crawls across Europe. They have visited cities such as Amsterdam, Malaga, Barcelona and the French Riviera.
Book the Flamingo Barcelona Pub Crawl to make sure you get the most out of your evening.
How does the Pub Crawl Barcelona work? 
For everyone who haven't taken part in a pub crawl before or simply don't know about it, here are few words about it. A Pub Crawl is a guided tour of several bars and clubs in a particular area. A local guide or guides who are familiar with the city typically lead it. A great way to experience the city's nightlife scene, get free drinks and meet new people.
Also, you have a chance to discover hidden gems that you might not have found on your own. Furthermore, one of the biggest advantages of a pub crawl is the local knowledge that the guides will be providing. They can also give valuable insight into the city's history and culture. Making the experience something even more special than just a night out.
Another advantage of a pub crawl is the social aspect, a great way to meet new people and make friends around the world.
Especially if you're traveling alone or with a small group. Surround yourself with like-minded people on an original pub crawl. And all of you are also looking to have a fun and memorable night out.
But perhaps the biggest advantage of a pub crawl is the convenience. With a guided tour, you don't have to worry about planning your own route. Furthermore, you do not have to navigate through the city's nightlife scene on your own. You can simply sit back, relax, and enjoy the ride.
How to join with our Pub Crawl in Barcelona?
To join with our Barcelona Pub Crawl, you have to buy a ticket first.
You can do it online or on spot. We are always gathering at 21.45-23.00 at Passeig de Gracia Safestay Hostel. To find us, come to the 2nd floor bar inside the Safe Stay Hostel, click here to see it on the map.
We'll meet in the bar inside the Safe Stay Hostel, click here to see it on the map.
It easy to notice us, as we are wearing blue Hawaiian shirts. The tour will take approximately 4 hours, it includes 3 shots (1 per venue) and drink deals available inside each stop. Most importantly, there are no tourist traps or scams, you can learn more in our reviews to learn what people think.
We recommend you to book your place in advance as places sell out quickly. Because of local regulations we have limited spots available!
What does the Barcelona Pub Crawl include?
3 courtesy shots.
Free VIP entrance, skipping the line to the club.
English speaking guides.
We kindly ask you to bring the following:
Please make sure you bring your ID with you.
Dress Code: Smart casual, no flip flops or sportswear during summer.
Arrive with a friendly attitude, we would like to ask you not to show up already drunk.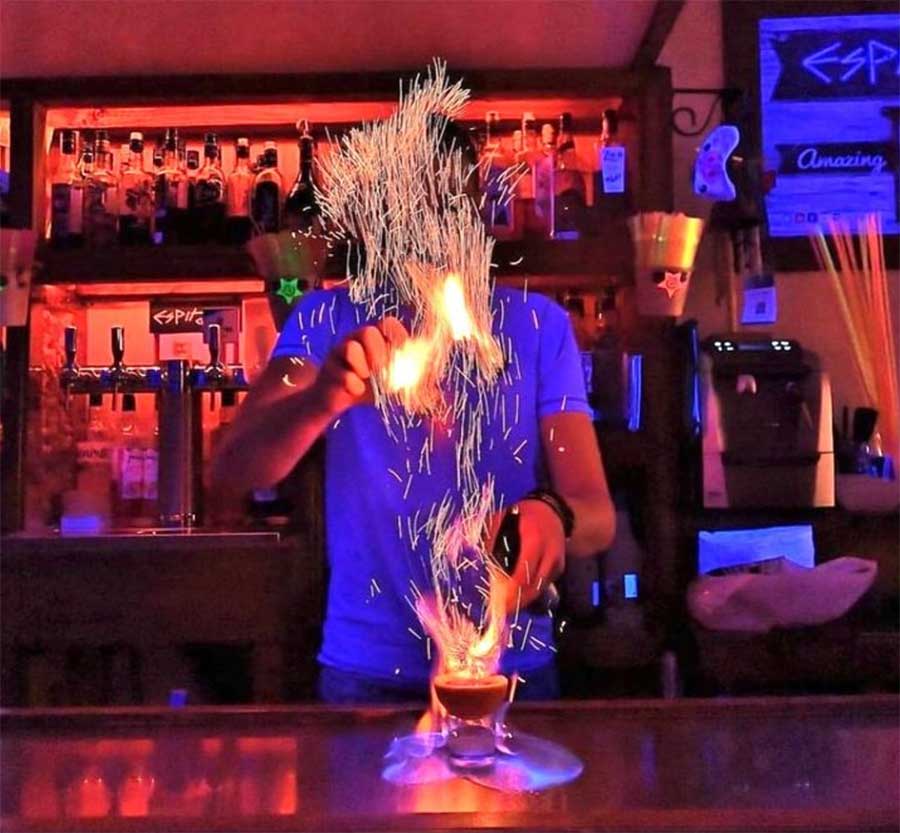 BARCELONA AND BEYOND
The Catalan Capital of Barcelona is one of the most visited cities across Spain. Whether you come searching for history, architecture, gastronomy or beautiful beach, Barcelona has it all in abundance!
One thing in particular that Barcelona is famous for, the diverse nightlife that bustles through the city streets!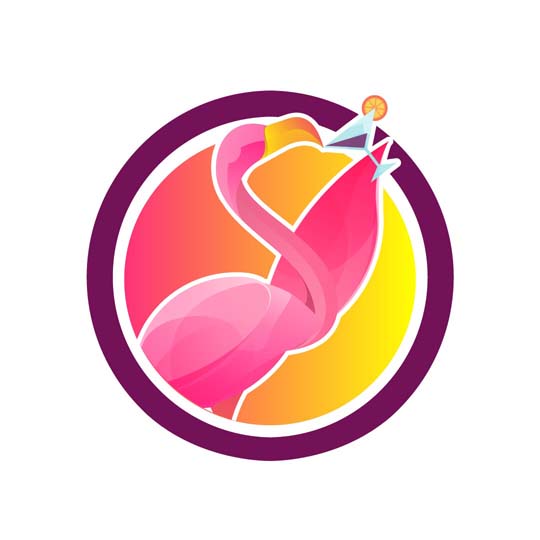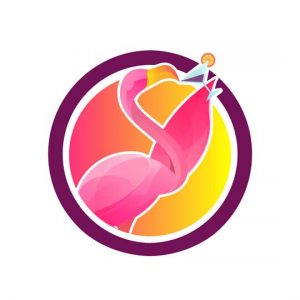 No matter the scene you're looking for, we guarantee that Barcelona will have something suitable to your taste. From Spanish Tapas to high-end wine bars, there's no shortage of venues.
Bear in mind, nightlife in Barcelona (and Spain) is quite different from the rest of Europe! Spaniards tend to eat much later than their European counterparts, sometimes not even until 21:45 or 23:00!
Nightlife in Barcelona starts much later, until late at night. Nothing to worry about, the Spanish make up for this by partying all the way through the night!
THE STORY BEHIND US
The idea of our Pub Crawl started during a nightlife tour in Amsterdam. One of the managers in this event could not pronounce "Domingo", the name of a tour guide. Instead he decided to call him "Flamingo".
Following this intense, breathtaking life-changing experience, the founders noticed that the name "Flamingo" was captivating and elegant.
A few years after, they used the name in their actual company. We came up with the idea in the streets of Amsterdam, during a pub crawl! But we raised the company in Spain, a country with amazing weather, interesting cultural places, and epic nightlife!
Our main goal is to create fresh and enjoyable experiences in the touristic sector. We want to invite people to disconnect from their daily lives. And above all, enjoy themselves in an international environment.
You'll want a fun way to explore the city's nightlife if you are in Barcelona, then try a pub crawl! The best option with local guides make this a the perfect way to discover the best bars and clubs that Barcelona has to offer.
Departure

Rooftop Bar @ Safe Stay Hostel - Floor 2 (Passeig de Gracia #33, 08007 Barcelona, Spain)

Departure Time

Find us in here between 21.45 - 23.00

Dress Code

Smart Casual. No Sandals, no sportswear, and no tank tops please.

Included

Flamingos

Fun Games

Meet new people

Personal Guide

Not Included

No open bar

Route suitable for the Handicapped

Transportation/Car

Visit 4 venues