Top Things to do in Barcelona
Are you travelling or planning to take a trip to Barcelona? Then you must be wondering about the top things to do in this vibrant Catalan capital. If you are googling Barcelona activities then you find many options what to do. Indeed, Barcelona is considered an unmissable destination, because this vivid city has a lot to offer! In our last article "A Tour around Barcelona", we talked about the different places you can visit in this city. Now we will focus more on the places that you absolutely cannot miss when you visit Barcelona. In this article, Flamingo Tours brings you the top things to do in Barcelona. So, feel free to start reading and explore what Barcelona has to offer!
Gaudi's Barcelona and the top things to do in Barcelona:
Probably the most famous parts of Barcelona have been created by our star architect Antoni Gaudi. If you read our article "Sagrada Familia and Gaudi's Barcelona" then you will know why Gaudi's work is so important. Also, you will found out how the great arcitect has portrayed the city of Barcelona. However, we could not leave him behind when we talk about the absolute must see attractions in the "Ciudad Condal". Attractions such as Sagrada Familia, Casa Batlló, Park Güell and Casa Milà (also known as la pedrera) are remarkably close to each other. You can easily walk around to at least admire these beautiful masterpieces. Of course we recommend to have a look how the inside of these incredible buildings look like! To skip the line, ticket booking is a must!
Explore Barcelona's most exclusive Street – Passeig de Gràcia
If you are walking through Gaudi's Barcelona, you must visit the most exclusive street called Passeig de Gràcia. This manor street has been the most chic area of Barcelona since the 1900s.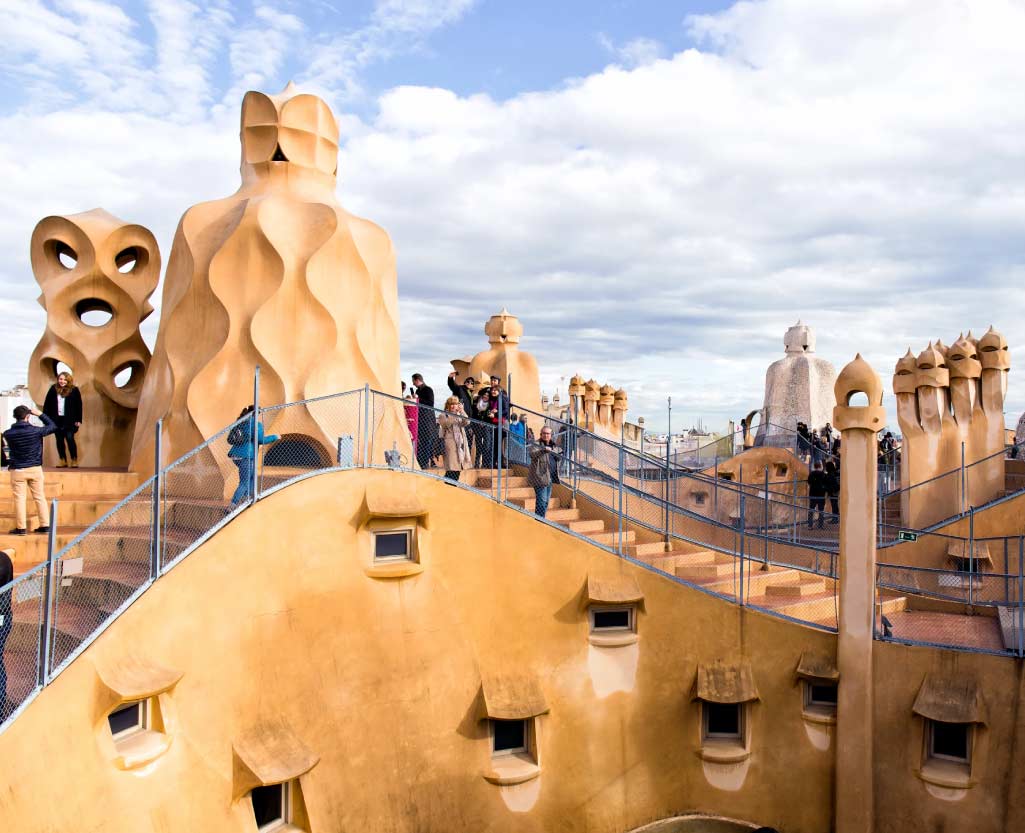 As you walk along it, you will realise the great number of people that are doing exactly the same as you. It is like this because Passeig de Gràcia is the busiest street in Barcelona, with more than 35,000 people passing through every day. In this avenue you can find remarkable architecture and high-end shopping places. It is also the intersection between the right and left side of L'Eixample neighbourhoods. The most notorious fashion shops as well as Hotels and Restaurants are equally part of the landscape.
Cross Plaza Catalunya
The entry point between the city centre and the modernist Barcelona is Plaza Catalunya. The Plaza is surrounded by different sculptures and four of them are representing Catalan capitals which are Barcelona, Tarragona, Girona and Lleida. Enjoy the fountain in the middle surrounded by the flow of people that cross this square daily. You can also admire the view of the intersection between the main city's street arteries. This central square is the entry point between "La Rambla" and "Passeig de Gràcia". In other words, this means that there are two parts of Barcelona. One is old Barcelona (before modernism the 1900s) and the other one is new Barcelona (after the modernism). Also, the square is known for its good transport connection as it has several bus and metro lines passing through it. Furthermore, you can find many cool boutiques, shops and restaurants in this area.
Admire the Arc de Triomf
Located on the side of the Gothic Quarter, the Arc de Triomf is an incredible masterpiece and one of the most recognisable landmarks in the city. It was not made by Gaudi, and therefore it is not part of the modernist era of Barcelona. It was built in 1888 as a new starting point in order to change the image of the city.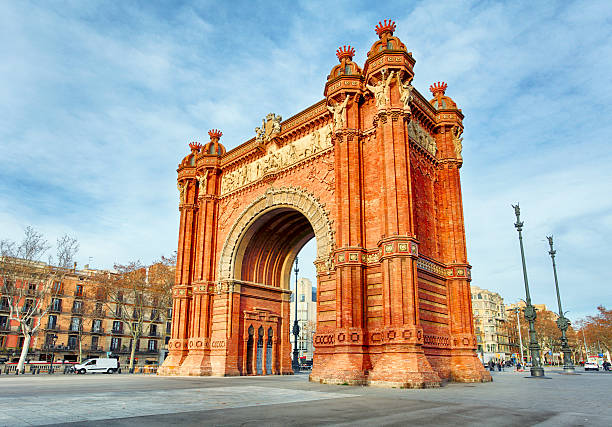 Also, it was a gateway to the fair that took place at Ciutadella park during Universal Exhibition. The arch is made of red bricks and features many detailed sculptures and carvings. Usually triumphal arches are built to show a military victory, but the one you can find in Barcelona was built for another purposes. To be clear, it was built to show the economical development of the city. The Arc de Triomf is surrounded by lovely park and is a popular destination for tourists and locals as it has beautiful surroundings where you can relax while enjoying live performances by street musicians. Did you know that the Eiffel Tower was supposed to be built in this part of Barcelona? Indeed, there were many projects presented to city council. However, the city council of Barcelona decided to not go on with this project. They believed that the Eiffel Tower would not fit the esthetical background of the city. Near the Arc de Triomf you can also find Ciutadella Park, the Catalan Parliament and the Barcelona Zoo. So, you can be sure that you won't get bored and there is enough to do to plan your whole day in this area.
Taste everything at La Boqueria and top things to do in Barcelona
One of the best things everyone should do in Barcelona is to try the local gastronomy. A good way to do it is to visit local markets and in Barcelona you can find quite many of them as the city has had a lot of markets throughout the history, but there are three markets that are the most famous ones. One of them is located in El Born and is called Mercat del Born. It was built in the 19th century and it used to be city's principal wholesale market until the 1970s. Nowadays it ha been modified into a cultural and memorial centre. Inside of the building you can find ruins of Roman Empire and a necropolis. Another famous market is located in Gothic Quarter and is called Mercado de Santa Catarina. It is the first covered market in Barcelona and this building offers us a good example of modernism as its roof reminds a wave and has a lot of colours from nature. The third market is called La Boqueria and it is located in Las Ramblas. It is the most popular one of these three markets and it is definitely worth a visit! As you walk through the market, you will be warmly greeted by the local people. You will encounter greetings like "Hola" or "Buenos dias" all around the market. While you walk through all the food stands, your nostrils will pick up a delicious scent of fresh seafood. It is a must to try at least one of the food stands. You can enjoy a nice glass of cava, as well as many of the thousands of tapas offered by each venue. Keep in mind that the more you venture through this market, the better the experience will be.
Walk down Barcelona's most famous street – La Rambla
Surrounded by a crazy amount of people and small commerces, La Rambla is a must for all visitors. The street offers different kinds of activity and you can find many shops, bars and restaurants there. The well known street is split into different parts, each with its own individual vibe.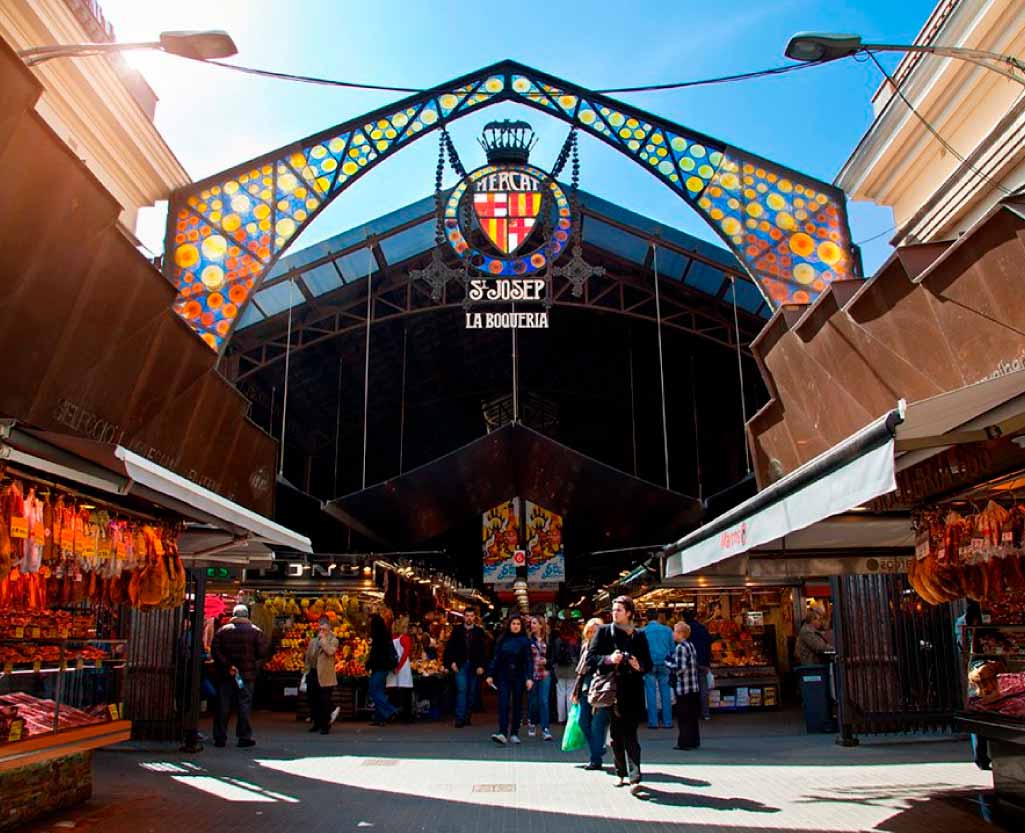 From the top section of La Rambla you can find many noted landmarks like Placa de Catalunya and the Font de Canaletas. The well known fountain called fountain of Canaletas is located just at the entry point of Las Ramblas. It is famous because all the FC Barcelona fans come here to celebrate the team's victories. The middle section of Las Ramblas offers an endless amount of architecture and shopping places suitable for all budgets. From luxury brands to mobile sales carts, you can find all types of souvenirs and gifts for your loved ones. The bottom section of this long street leads down to the waterfront and from there you can take a look to the Columbus Monument that is 60 meters high. Cool fact about this statue is that you can take a lift at the base of this monument and it will take you to the top of it. From the top you can access some of the most breathtaking views of the city as you will have a view of the street Las Ramblas and Port Vell area.
Get lost in the Gothic Quarter
If you are walking down La Rambla from Plaza Catalunya, you can either go right (El Raval neighbourhood) or left (Ciutat Bella neighbourhood). No matter what your choice is, you have to take a tour around the charming small streets of the Gothic Quarter. This neighbourhood dates back to the Roman times and that is why you can find many buildings and streets featuring Roman remains. Furthermore, you can find many constructions from the medieval times.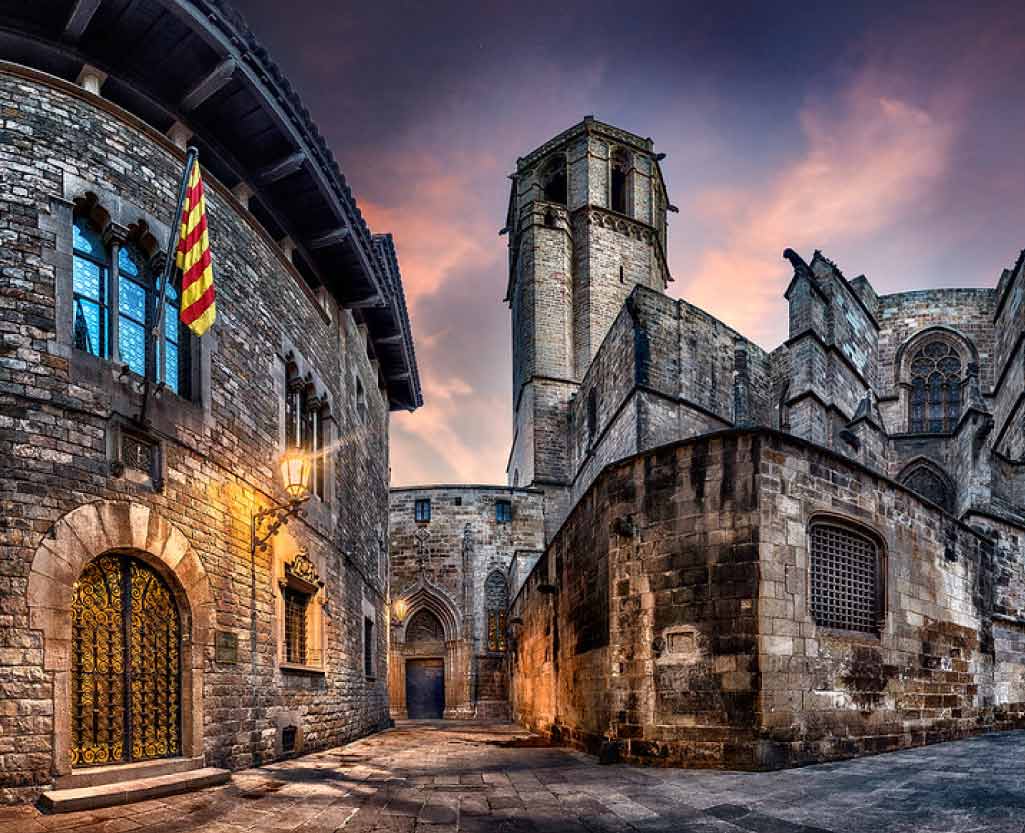 In this area, you will find all types of activities. For example you can visit different museums, enjoy beautiful architecture or take some time off by enjoying a fresh cocktail or a meal at quality restaurant. We strongly advise you to visit the Barcelona Cathedral, The Colon Statue, The Wax Museum, Plaça del Rei or the Palau Guell for cultural purposes. Gothic neighbourhood is also known for its talented street artists and performers, there is always someone singing, dancing or entertaining. This area is one of the most loved destination for locals and tourists as it is visually appealing. Also, in this part of town many festivals and events are taking place throughout the year. One of the most impressive and the oldest one is a festival called San Roc, it is held in August.
Take a plunge on the Barcelona beach
If you are travelling to Barcelona, you have to explore its dreamy beaches! You can visit many beaches in Barcelona, depending on how far you are willing to travel. With a long coastline, there is something for every kind of taste! You can go to the most touristy places such as la Barceloneta. On this beach you will find many activities to enjoy a sunny day in the Catalan capital. There are plenty of bars, restaurants, souvenir shops and sunshine waiting for you on this kilometre-long seafront. It is easy to visit this place as it is easily accessible by public transportation. If you are looking for a more quieter beach, then we recommend you to visit Nova Icaria Beach. You can find this beach in the Olympic Village and it is a perfect location for you when you are travelling with your family. It has calm and clean water and you can find volleyball and other sports facilities there. When you past the Poblenou neighbourhood, you will find relaxing Bogatell Beach with a local atmosphere. It is a great option to take some time off and enjoy the its surroundings without the city noise. Near the beach you can also find some restaurants and bars. Mar Bella Beach is perfect for anyone who is loving water sports, as you can enjoy windsurfing and kiteboarding there. You can find this stunning beach in the Sant Marti district that is famous for its big waves. This beach is also a popular destination for nudists.
Reach the top of Montjuïc Castle
The top of Montjuïc Castle is another of Barcelona's artistic and cultural highlights. It may not seem like an attractive hill to walk up, but the views and architecture are totally worth it. Most of the way up, you will find electric ladders, so do not worry about getting tired. Once you reach the top, you can visit the art museum called Museu Nacional d art de Catalunya. The castle was constructed in 1640 and it was built for military reasons to protect While visiting this museum, you can enjoy a 360-degree view on top of the castle. The panoramic views of the city are simply breath-taking. While visiting Montjuïc, another incredible experience is to take the cable car of Montjuïc. You will enjoy the best views of the city and experience Barcelona from the sky.
Have fun at Tibidabo – Barcelona's highest point
An amusement park may also be on your list of places to visit in Barcelona. Located relatively close to the north part of the city, you will find the Tibidabo Amusement Park. Adults love the views, and kids enjoy the park. If you are travelling with your family, this is probably a must-see on your visit to Barcelona. There are several ways to get to Tibidabo Mountain, which is the highest point in Barcelona. You can either take public transport (both metro and buses), take a private car or go hiking. To clarify, if you decide to hike, it will take around 1 hour (3.3 kilometres) if you start at the northern neighbourhood of Sarrià.
Visit Camp Nou – FC Barcelona's Temple
Especially if you are a football fanatic, this is a must when you visit Barcelona. One of the top things to do in Barcelona is visiting Lionel Messi's backyard. Whether it is to buy a shirt at the official Botiga del Barça or to visit Camp Nou.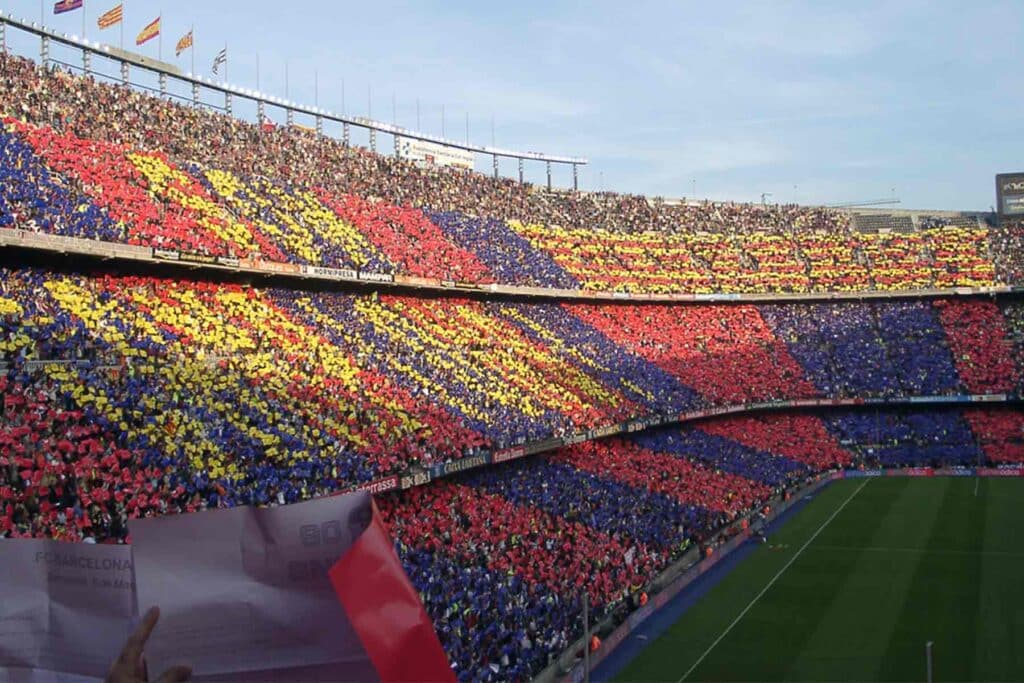 Europe's biggest stadium is totally worth a visit, not only for the stadium itself, but also to get a first look at how football plays such an important role in Barcelona. As one of the world's football capitals, the sport has become an essential part of the lives of the locals. The people of Barcelona compare watching their team to opera. It has become such an international spectacle to watch Messi's team play that they make comparisons with the best opera singers. As you may have noticed, there are multiple activities that are among the best things to do during your visit to Barcelona. Depending on the type of trip you are planning, you can opt for different options. In case you want to know more about most of the best things to do in Barcelona, we invite you to join our Free Tour Barcelona. We will take you through the modernist route of the city where you will learn more about the history and art that has shaped this city. Remember that the best things in life are free and we want your experience to be memorable.