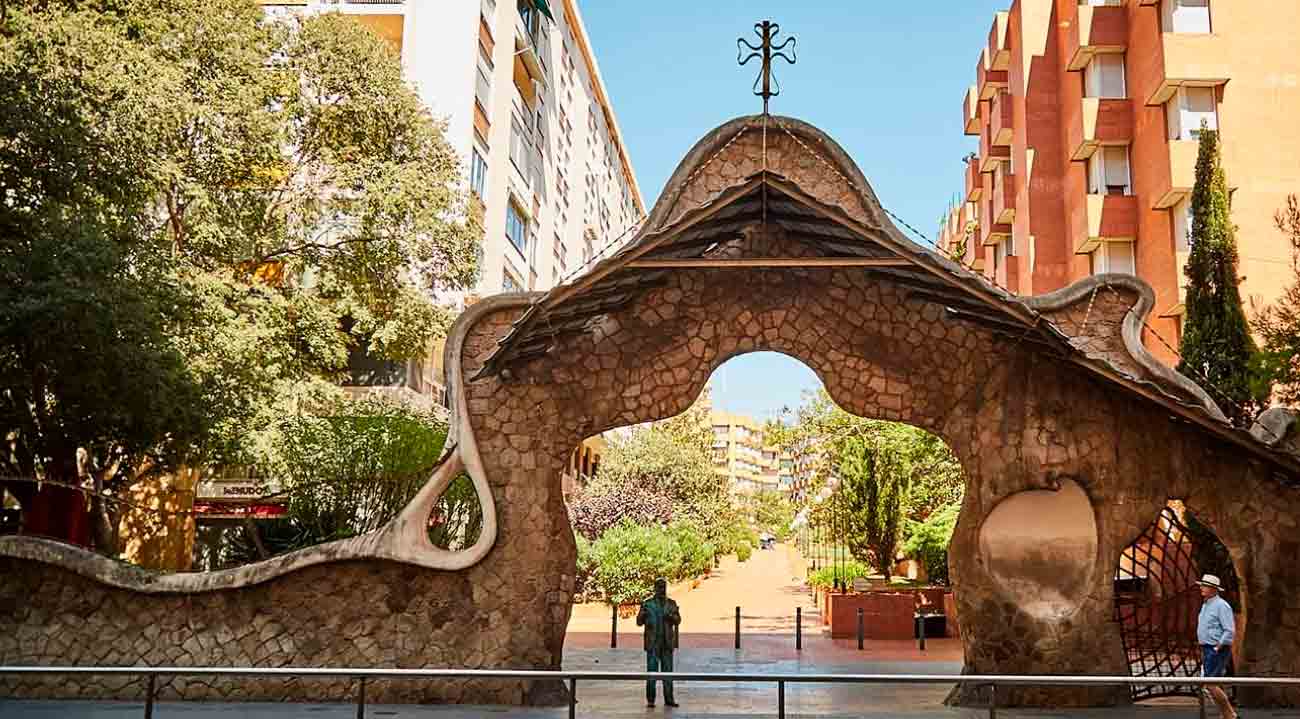 Streets of Barcelona, amazing hidden architecture
Yesterday I walked through Barceloneta, a well-known neighborhood in Barcelona. I realized that most tourists walk around the city, admiring museums, monuments, among other tourist attractions. But those are not the only attractions in the city.
For example, not everyone knows the most famous streets of Barcelona, ​​not only by name but by their artistic beauty and architectural structure. 
That is why I decided to make this article, with a list of the most beautiful streets in Barcelona. If you are anare instagramer and you looking for those beautiful corners of Barcelona, ​​in this article you will find the best Spanish streets for you to post on your profile.
I assure you that you will not regret visiting these Spanish streets, alleys and neighborhoods. They are full of vibrant colors, flowers everywhere, beautiful architecture and finally, they are in the most cheerful neighborhoods of Barcelona.  

If you come to Barcelona one day, I recommend you visit these places. And if you are already in this Spanish city, what are you waiting for to venture out?
Now, I leave you with the list of the best streets in Barcelona.
TOP 5 OF THE BEST STREETS OF BARCELONA
• Paseo de Manuel Girona, Gaudí's most unknown work
This walk is at the top of my list of the best streets in Barcelona. Because on this street is the Portal Miralles, a portal designed by Antoni Gaudí in 1901.
This commission was made by the industrialist Hermenegildo Miralles, who was dedicated to creating and selling tiles.

Gaudí and Miralles collaborated together on various projects and the latter commissioned the brilliant architect to build his house.
Finally, the entire house was not designed, only the wall and the entrance door of what would become Casa Miralles. 
Even so, this portal is one of Gaudí'sworks in Barcelona most unknown. If you come to visit this street, you can have an idea of ​​how big Casa Miralles would have been, since the wall is quite long.
• Calle d'Allada red, two streets of Barcelona that turned into one
Calle d'Allada Vermell issimple, but it has become famous for the house number 12. That is why it is on my list of the best streets in Barcelona.
But you wonder what is special about house number 12 on this street? This house is famous and known as the house full of pots. It has about 61 pots, and it is really cute.
For this reason, this street or rather, this house has become one of the most beautiful and famous places in Barcelona.
But I will also explain the name of his street. Before these two streets Allada and Vermell they were separated by a block of blocks. So they broke down the wall between the two streets and created a small square.
If you visit this street, you can get an idea of ​​how they were before. The floors and corridors of both streets must have been very narrow.
• Calle de Milans, one of the most original in Barcelona
This street is one of the famous streets of the Gothic Quarter. At first glance it does not seem an extraordinary street, let's say that with no peculiarity.
But if you keep walking through it, you may find that it suddenly widens, creating a circle.
This original idea was conceived by the architect Francesc Daniel Molina. An idea that has made this architect famous, who among his architectural works also designed Plaça Reial and Plaça del Duc de Medinaceli.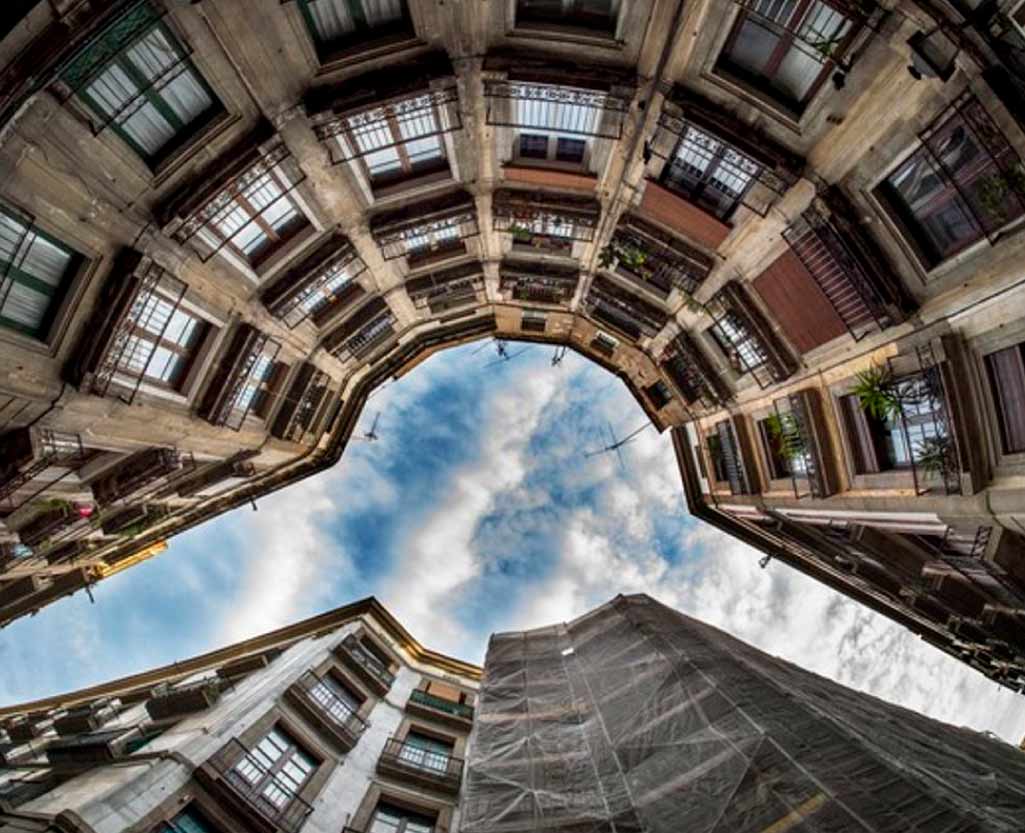 • Mallofré passage, the auction of Barcelona
Sand is at number 75 of the Major street of Sarria, bounded by an arc and followed by a narrow stretch covered with a wooden beamed ceiling. It is a journey in which peace and privacy are breathed. In summer it offers shade and in rainy weather, shelter.
This quiet passage in the Barrio de Sarrià has a long history, starting with its name. Hebears the name of the stockbroker Josep Mallofré i Trius, who bought the land from a transport company. The place was being auctioned in order to pay off a debt.
They built three houses on the ground, and the end formed a passage connecting the two main streets. In honor of the stockbroker, this passage was named with his surname.
• Calle del Obispo, one of the most mysterious streets of Barcelona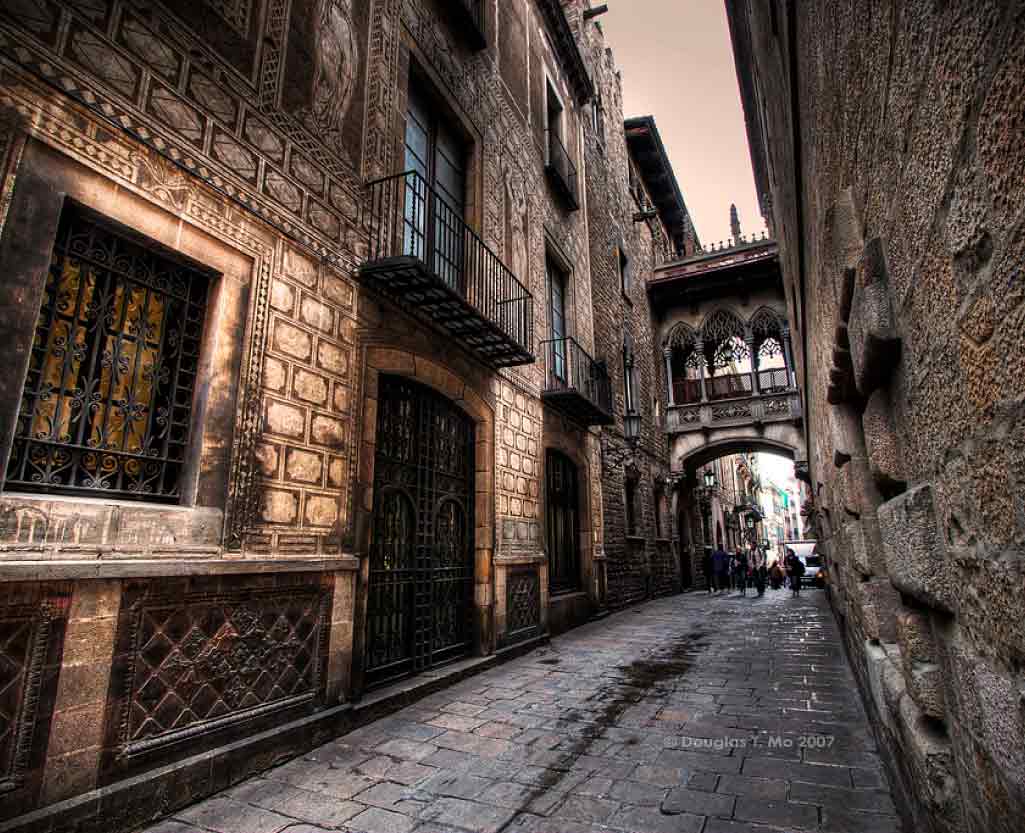 Carrer del Bisbe is the most photographed and visited place in the Gothic Quarter.
And although it looks very old, it is not. It was built in 1900, that is, it is 100 years old.
If you visit this place in Barcelona, ​​go under the bridge and notice that there is a skull with a dagger through it.
Its meaning is an unsolved mystery.
Although there is a legend, it says that the architect who designed this bridge, Joan Rubió i Bellver, intended to modify the Gothic Quarter. He designed a project to demolish all those buildings that were not of this style.
But finally, this did not materialize so he included this skull as a sign of betrayal. Did you know about this information? It is one more reason to visit this place.
So with these concludes my list of the best streets in Barcelona, ​​encourage yourself to come to this Spanish city and know for yourself these amazing places. Enjoy, meet and make it memorable!