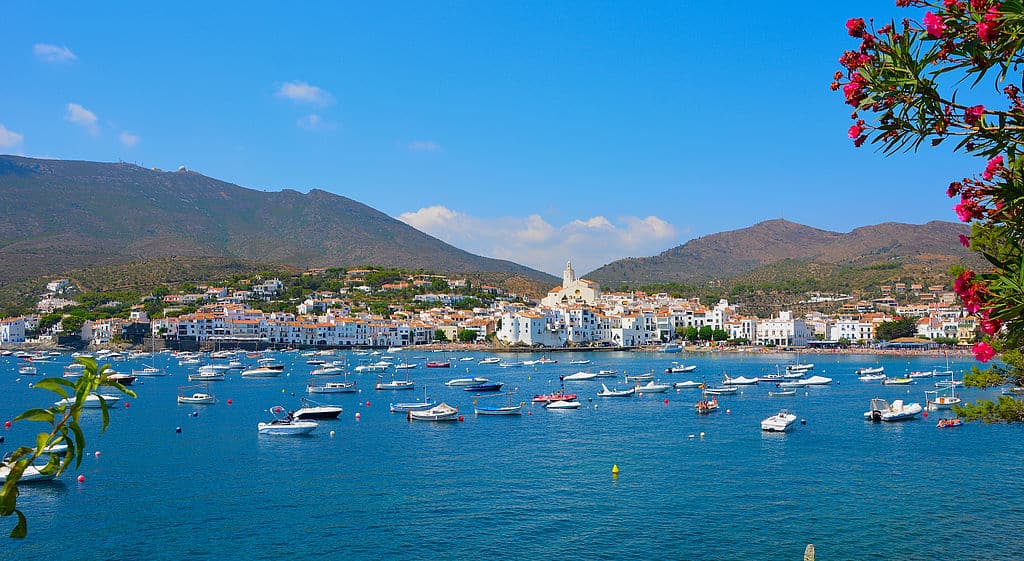 Cadaques: Dali's secret town in the Costa Brava
Have you ever heard of the city called Cadaqués? This small village is considered as a secret gem, because of its beauty. Also, it is considered as a perfect day trip destination.
The beautiful town is located on the Costa Brava and the city is 135 km far from Barcelona. This lovely city is a must visit for everyone who like fishing and beautiful nature.
Also, this place is a great treasure for everyone who like Salvador Dali. It is like this, because the famous artist located his laboratory and lived with his beloved Gala in this lovely village.
Salvador Dali was one of the most beloved painters of the 20th century. Even today he embodies the figure of the eccentric and successful artist able to transform into art everything he touched.
It is not possible to limit Dali's artistic activity to the world of painting. Because it would mean ignoring his works in the fields of architecture, design, sculpture and photography. Although less known, make the idea of the greatness of the Catalan artist.
Salvador Dali was born in Figueres in 1904 and remained here until his death in 1989. In Figueres Dali wanted to create his own house-museum where he was later buried.
What's so special about Cadaqués for Dali?
When Figueres was the place where Salvador Dali spent most of his time and he even spent his last days there. Then his favourite place was the fishing village called Cadaqués. That is also one of the reasons why you can find the Salvador Dalí House Museum there. You can find it in Portlligat, little bit out of the town, just a 15 minutes by car.
The house used to be a residence for the famous artist and his wife Gala between the years 1930 and 1982.
His house, in his image and likeness, is one of the most popular destinations for cultural tourism on the Costa Brava. Visitors can discover different rooms of the house and the delightful garden. You can find many stuffed animals, books, velvet and material that recalls the pop culture of advertising of the twentieth century. The house has remained just like it used to be when Dali and his wife lived there.
Description of Dali's house in Cadaqués
Starting from 1930, the artist created this house by himself. He used fishermen's huts and turned them into a structure formed by various irregular rooms. If you enter the house, then it will remind you a maze because of how it looks. Around every corner you will find a unique surprise.
The house already amazes from the entrance. To welcome the visitors, you will find there a polar bear decorated with interesting necklaces and medals. It was originally used as a stick holder and umbrella stand.
To follow other rooms, full of objects and unique details. Huge stuffed swans, skulls, sea urchins and junk of all kinds, not always easily identifiable.
For about 50 years Dalí spent much of his time there, modelling the spaces in his image and likeness. The artist lived here together with Gala, his companion and muse, until 1982, the year in which the woman died. This magical place overlooking the bay of Portlligat was his refuge, his atelier, his love nest.
It is really difficult to determine what is the most striking element of the house of Cadaqués. The mirror placed on the side of the bedroom window is a small masterpiece. It allowed Dali to boast of being the first to see the sunrise all over Spain.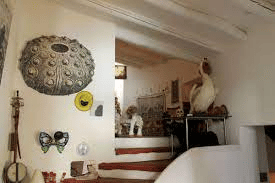 Love in the life of Dali
Actually Cadaqués for Dali is a fundamental city that has inspired him both from a working and sentimental point of view. Dalí's father, who was a notary, had a holiday home in Cadaqués. There Dalí met Gala, an 11-year-old Russian expatriate who was already married to the surrealist poet Paul Éluard. Later Gala divorced from Paul.
The two fell in love, married (twice) and never broke up again. Although they both had parallel relationships with other people. Gala was the love of his life and his muse.
The house of Port Lligat – initially composed of two rooms and then gradually enlarged – became their refuge. In a corner of a wild and isolated world, opposed to an existence made of travels around the world.
Another attracton of Cadaqués
Besides Salvador Dali House Museum, the small village is also known for its association with the artist of Marcel Duchamp. He used live in this small town for many years during 1950s. All the visitors can discover the Casa Museo de Marcel Duchamp that is dedicated to his work and life.
For all the nature and hiking lovers, we also recommend to visit Cap de Creus Peninsula. It is one of the town`s main attraction and you can find many options what to do there. For example you can hike, swim and discover the interesting coves and beaches at the coastline.
In conclusion, Cadaqués in Girona, Spain is a charming village that offers much to do and see. From Cadaqués Dali house to its stunning natural beauty, there is something to explore for almost everybody. By saying that, be sure to make a stop there, if you are visiting Costa Brava.