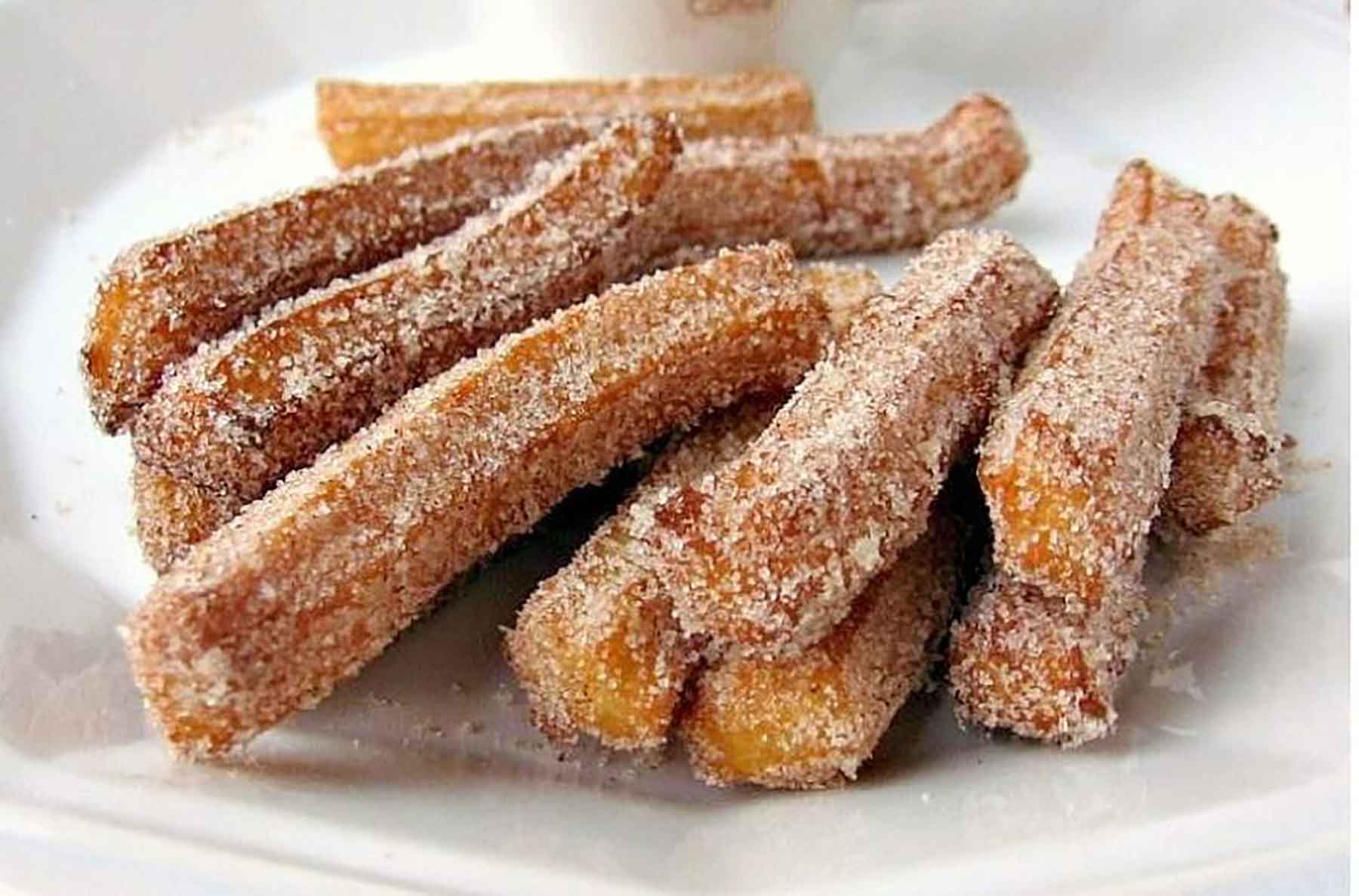 Best 5 Places for Churros Barcelona
Churros Barcelona
One sweet treat that you just have to try in Spain are churros! Barcelona has many good places for that. These deep-fried dough sticks, often dusted with sugar and cinnamon or served with a cup of rich, velvety chocolate for dipping, can be found throughout the city, from charming local bakeries to bustling street vendors. 
When it comes to finding the best churros in Barcelona, the Gothic Quarter is a treasure trove of delightful options. Whether indulging in them as a breakfast snack, a dessert, or simply as a sweet pick-me-up during a stroll along Las Ramblas or in the historic Gothic Quarter, churros in Barcelona are a must-try treat.
Enjoying churros is not just a culinary experience; it's a cultural one. You can check out the 5 Best Churros Places in Barcelona in this article.
5 Best Churros Places in Barcelona
Granja M. Viader
Granja M. Viader is known for its rich history and delectable Catalan treats. It is located on Carrer de Xuclà, this iconic dairy bar has been serving the city since 1870, making it one of Barcelona's oldest and most beloved establishments in Barri Gòtic.
Granja Viader is renowned for its creamy and velvety hot chocolate, a perfect accompaniment to its fluffy churros and other traditional pastries. The cafe also has dairy products, offering fresh milkshakes, yogurt, and crema catalana, all made from high-quality ingredients. 
The vintage ambiance of Granja M. Viader adds to its charm, making it a must-visit destination for locals and tourists alike seeking an authentic taste of Barcelona's culinary heritage. While you are on a Catalan cuisine tour in the city, you should take a sweet break here.
Churrería Laietana
The famous Churrería Laietana, located on Carrer de Petritxol, must be mentioned while discussing churros in Barcelona. For centuries, the delightful restaurant that serves delectable churros con chocolate (churros with chocolate) has been a local favourite.
What sets Churrería Laietana apart is its commitment to delivering the perfect churros con chocolate experience. The churros here are expertly crafted, crispy on the outside and soft on the inside, making them an ideal companion for their thick and rich hot chocolate. 
Whether you visit for a quick morning bite or a late-night indulgence, Churrería Laietana is a go-to spot. You should visit here when you are in El Born neighbourhood for a satisfying treat.
La Pallaresa
La Pallaresa is a charming and iconic pastry shop in Barcelona, nestled on the picturesque Carrer de Petritxol. It was established in 1947, and it has become a beloved pastry shop in the heart of the city's Gothic Quarter. 
This delightful venue is renowned for its traditional Catalan pastries, including churros and chocolate, which are a true indulgence for the senses. The warm and inviting atmosphere of La Pallaresa, combined with its mouthwatering offerings, makes it a favorite haunt for both locals and tourists looking to savor the authentic flavours of Barcelona.
If you're craving a more diverse churro experience, La Pallaresa is the place to go. Here, you can pair your churros with crema catalana, dulce de leche, and other delectable toppings. A visit to La Pallaresa is a delightful journey into the heart of Catalan pastry tradition.
Granja Dulcinea
This charming establishment has a rich history of delighting locals and visitors alike with its delectable Catalan sweets and warm atmosphere since 1941.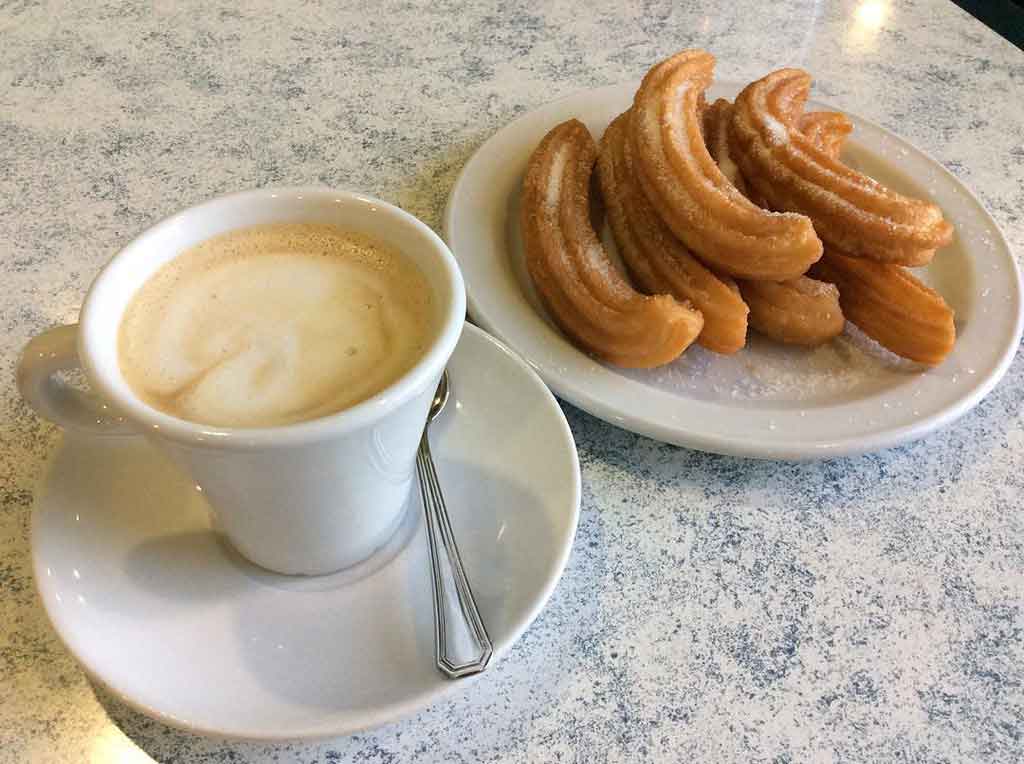 For a thicker and richer hot chocolate experience, head to Granja Dulcinea on Banys Nous, where you can indulge in their velvety hot chocolate alongside a plate of crispy churros. One of its standout offerings is the heavenly combination of churros con chocolate, where you can dip perfectly crispy churros into a thick, velvety hot chocolate. 
Granja Dulcinea's hot chocolate is particularly renowned for its rich, comforting flavor. In addition to churros, they serve a range of traditional Catalan pastries and desserts, making it a perfect destination to explore the city's culinary heritage. Don't forget to grab some churros with chocolate from here while you're exploring the Gothic Quarter in the morning.
La Nena
Another excellent choice is La Nena on Carrer de Muntaner 562, offering a delightful blend of churros and whipped cream. La Nena is a quaint cafe that serves some of the fluffiest and tastiest churros in Barcelona. They offer an array of dipping options, including chocolate and caramel. 
These churrerías offer a diverse range of churro experiences, from traditional to innovative, ensuring that you can satisfy your churro cravings no matter where you are in Barcelona. Don't miss out on this place if you're in Gracia.
What Else About Barcelona?
Additionally, if you're interested in learning more about different areas of the city, take a look at our Barcelona Walking Tour for more information. We are visiting all of the city's most well-known locations that are must-sees for everyone. Also, to explore other places or see what to do in Barcelona, you should check our blog for other content.