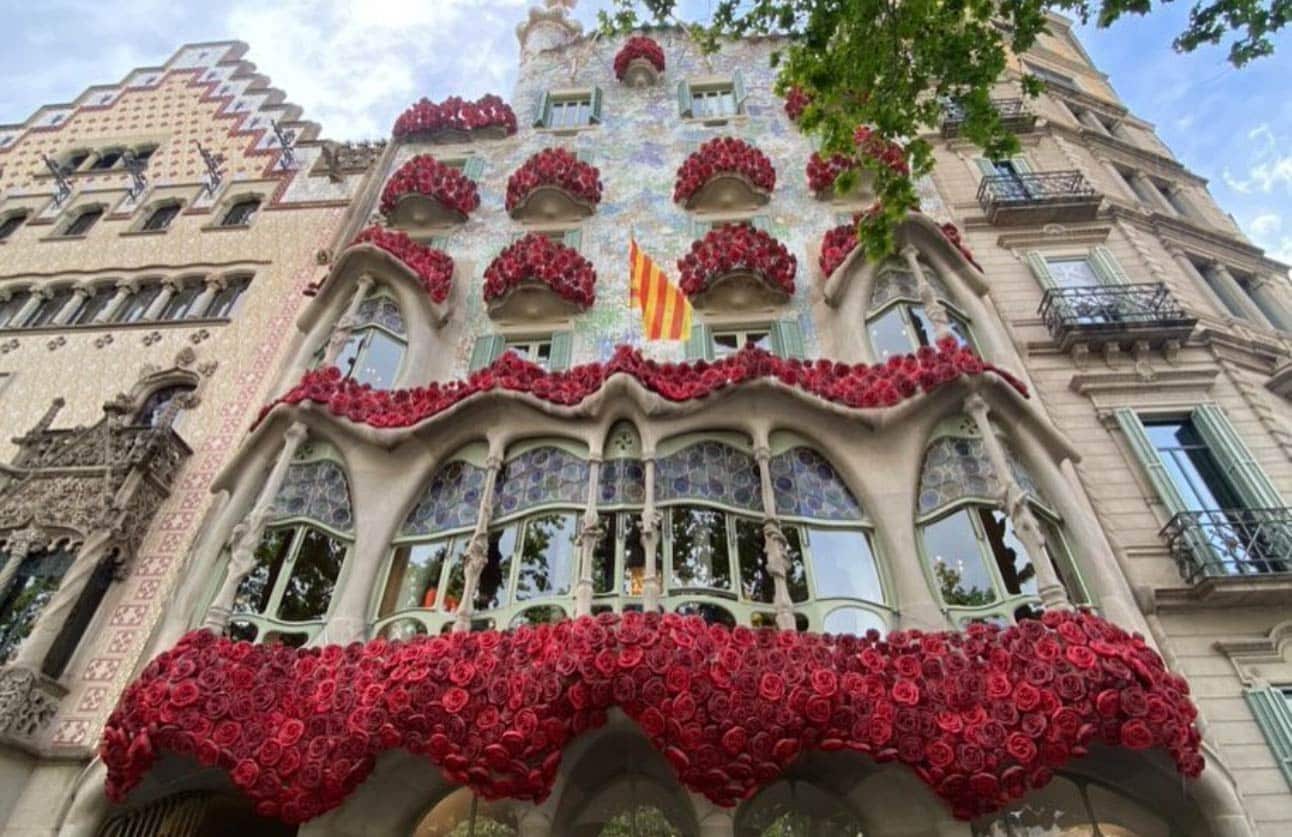 Sant Jordi: A day filled with flowers and books
On April 23 in Catalonia is celebrated the International Book Day in Catalonia on which is celebrated the anniversary of the patron Sant Jordi.
The Day of the Book meets love
This day is one of the most original celebrations in Catalonia and takes place in the spring, April 23. It is a festival of popular character, combining culture and romance. It combines the celebration of the day of the book with the day of lovers. For the occasion, couples exchange gifts. Tradition has it that men receive a book and women a rose. However, it is increasingly common for men and women to give each other books and roses.
Barcelona
is transformed throughout the day into a huge bookstore-flower shop outdoors. The streets are filled with people walking through stalls of books and roses. They look for a gift not only for your loved one, but also for friends and relatives. Throughout the city, you can find stalls with the latest editorial news, see famous authors signing copies of their works. And, of course, smell the roses.
What can you do in Barcelona during this day?
You can walk around the city and breathe in the festive air. Must-sees are Las Ramblas, Paseo de Gracia, Paseo de Sant Joan and Rambla de Cataluña, where the stalls selling books and roses abound and where literary activities such as workshops and shows are organized. Moreover, during the day, it is easy to attend the performances of "sardana" (traditional dance). And the popular "castells" (human towers) in places like the
Plaza Sant Jaume
. The day of Sant Jordi also offers the opportunity to visit buildings. Such as the town hall, the Palau Güell, the Modernist Enclosure of Sant Pau, the University or the Palau de la Generalitat. Where special activities are organized or open days with free visits. Not to be missed is the Casa Batlló, on which Gaudí represented the legend of Sant Jordi and the dragon, to which this festival refers.
How did this party come about?
This curious festival comes from a set of traditions from different eras. The feast of Sant Jordi (San Giorgio), patron saint of Catalonia since the fifteenth century. The famous legend of Sant Jordi and the dragon tells that the knight defeated the dragon that intimidated the people and the princess. Stabbing him with the sword, from the body of the beast flowed beautiful red roses, one of which was given by Sant Jordi to the princess. Then there is the ancient medieval habit of visiting the chapel of Sant Jordi of the Palace of the Generalitat, where they used to organize a fair of roses or "lovers". For this reason San Jordi is also known as the patron saint of lovers in Catalonia. Moreover, below you will find the places where the stalls with books and flowers for Sant Jordi in Barcelona will be installed: Passeig de Gràcia Arc de Triomf Plaça Reial Rambla de Poble Nou Jardins del Palau Robert Passeig Picasso Avinguda Diagonal
[/vc_column_text][/vc_column][/vc_row]