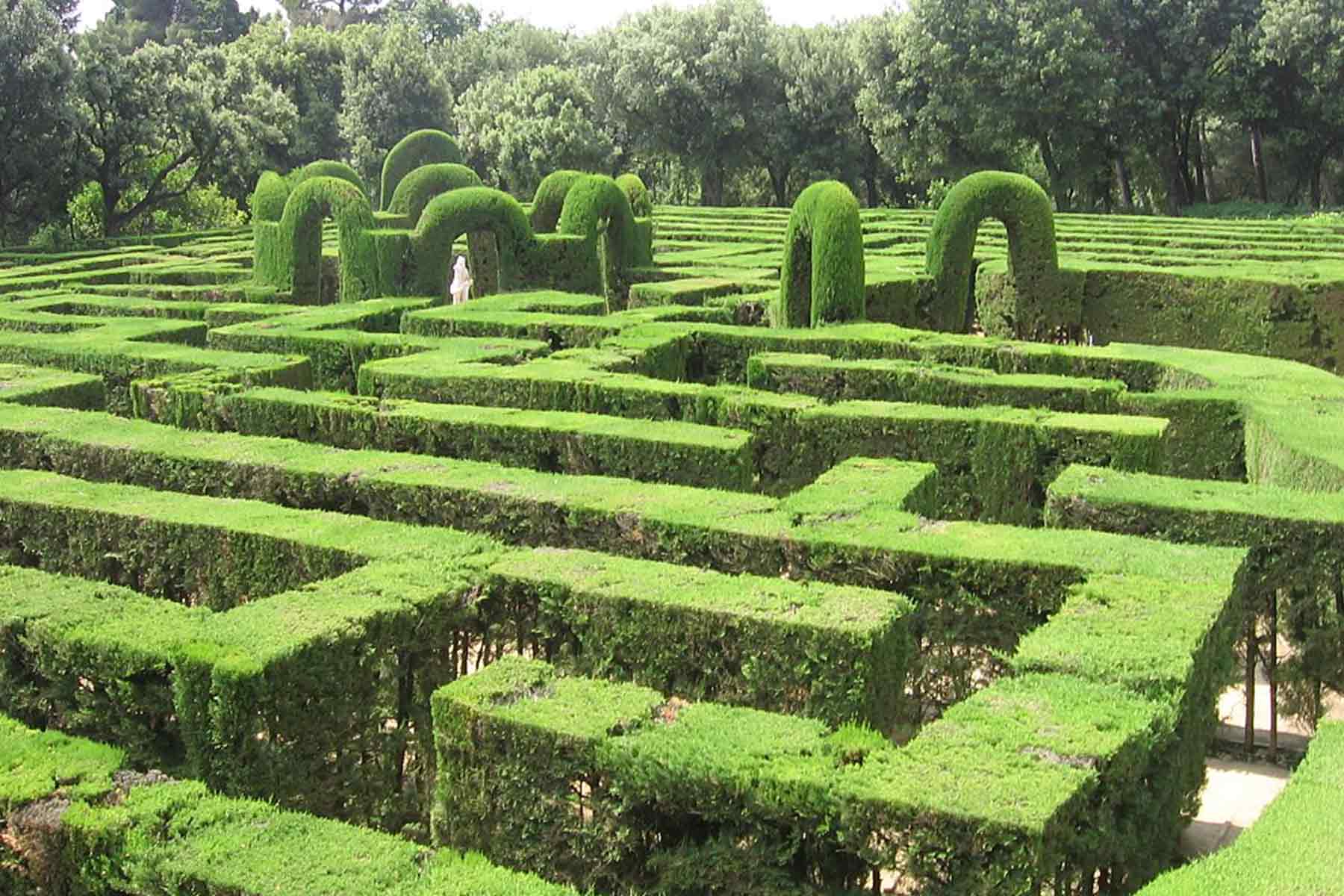 Hidden Places to visit in Barcelona: 5 Secret Gems
The capital of Catalunya is one of the most beautiful cities in sunny Spain. We are saying it, because Barcelona features several famous attractions, historic landmarks, quality restaurants and lovely cafes. There is absolutely something for everyone to see and explore. For example, during your stay you just have to visit some famous places like Park Güell, Camp Nou, Sagrada Familia, Casa Batlló or La Pedrera (Casa Milà). If you haven`t visited these places, then have you been in Barcelona at all? Besides these well-known places, there are also some lesser-known places in this stunning city, that are also worth mentioning and discovering. In this blog post we are going to check these hidden gems out and also talk about some unusual things to in Barcelona.
1. Placa Reial
In Barcelona, hidden gems can be found and one of the most stunning places that you can admire around the city is interesting Plaza Reial. It is located in the heart of the historic Gothic Quarter and near La Rambla. Somehow it is almost always overlooked by tourists, as this location is not immediately noticeable and it is easy to miss it. This interesting square is surrounded by neoclassical buildings and you can find many quality restaurants and cute coffee shops near by. Furthermore, you can enjoy the lively medieval city near the beautiful church of famous Santa Maria del Pi. Also you can visit many beautiful and historical shops near there or simply enjoy the local daily life by being one of the crowd. The wide variety of different options is also one of the reasons, why it is a popular place for locals and tourists alike.
In this historic square you can sit at the comfortable tables of the Glaciar Bar (which still has the bohemian style of the old cafes) under the arches surrounding the square and watch a wide variety of people passing by the fountain or under the palm trees. Here you will surely meet everyone, from tourists and acrobats to children or couples holding hands and this is what makes visiting this square interesting.
Today Plaça Reial has many quality restaurants and chic bars and is a lively square both, day and night. After sunset, it is interesting to watch how the square comes alive and you can see there many street artists and hear cool live music. It really sets the mood and creates lively and authentic atmosphere. In the centre of Plaça Reial there is a fountain with two special lampposts that is hard to not notice. Famous local architect Antoni Gaudí designed these beautiful lamps in the early years of his successful career. This is why this place is definitely a must see for everyone who admires fascinating Gaudi`s work.
A building that was Gaudi`s first assignment that he created for the city of Barcelona. It has a typical Mediterranean look thanks to the "palaces" and the surrounded palm trees. It is an ideal place to have a drink (at a high price though) during your visit to vivid Barcelona. If you search carefully on the web, then you could even find a guided tour that may visit this place. Feel free to join with them if you are interested to get to know the history of this impressive place.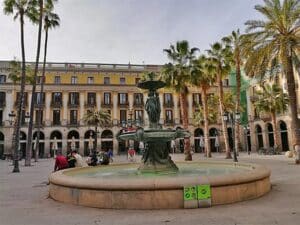 2. Labirinto di Horta
The labyrinth of the Horta is one of the hidden gems that is located in the peaceful Horta-Guinardo area of Barcelona. This historic and lovely garden is also a maze of hedges and lovely paths. It is a great place to discover during sunny day. The labyrinth was created in the late eighteenth century and it was restored to its former glory in recent years. Labyrinth of the Horta is one of the oldest parks that is still in use in the city of Barcelona. The pleasing park has a neoclassical style and the amusing maze is ideal for a visit with children as you can escape the hustle of the city and enjoy some peaceful and quiet moments there. Another interesting thing about this neighbourhood of Horta-guinardó is that usually you will find mainly locals. So, it is interesting visit to see the local life as well.
It is open every day until 3.00 pm and to make your visit as smooth as possible, you can book your ticket online. You can also book a tour, to get to know about this place more and discover its history. Children below eight years can enter for free. For others tickets are 9 euros and with a guided tour 16 euros. They are also offering special prices for schools and bigger groups.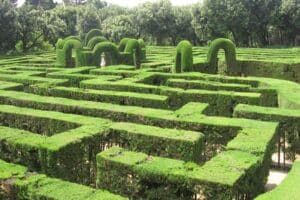 In 1792 the Italian architect Domenico Bagutti was commissioned to build a labyrinth of cypresses in this park, with a statue of Eros in the center. The park was then owned by the wealthy Desvalls family who lived in a building near the park. Back in the times this building was located in the independent municipality of Sant Joan d'Horta. Later it was annexed to the city of Barcelona only in 1904. The stunning 9-hectare park is divided into neoclassical and romantic gardens; next to the famous maze there is a delightful waterfall, a moss garden, amazing two Italian temples with statues of Danae and Artemis and beautiful Tuscan columns. In the early 1970s the park became the property of the city of Barcelona and was opened to the public. Since that time, it has become a popular attraction.
If you happen to stay in refreshing Barcelona, keep definitely in mind to visit this lovely place during your day trips. It really is worth your visit and time. To discover it, you do not have to make a booking, just take some coins with you as the ticket to this park is only 2.35 euros. Back in the days it used to be free, but not anymore. In order to keep it beautiful and take care of it, the city council decided to change it and that is why you need to buy a ticket now to enter the park.
3. Torre di Bellesguard
At the foot of magnificent Tibidabo stands a fascinating building by the famous Catalan architect named Antonio Gaudi. This stunning building is Torre Bellesguard and the design of it is very unique and beautiful as all the buildings that Gaudi has designed. It is almost always forgotten by the itineraries of hit and run tourism. Back in the times it used to be a manor house, but nowadays it is a beautiful monument to visit with less crowds than the other famous buildings by Gaudí. It is located in the Sarria-Sant Gervasi district of Barcelona. This amazing building was completed in 1917 and is definitely a must see for anyone who are interested in Gaudi`s work.
The Tower of Bellesguard was built by the Guilera family on the remains of a medieval palace. The style of it inspired Gaudí to build the current building. The architecture of this place is a fascinating mix of neo-Gothic and modernist. There are also some symbolic references to ancient tradition and slender forms in harmony with the other buildings of the early '900. Your visit will be completed by the view from the pinnacle of the tower, a show that does justice to the name of the building itself. The building has interesting combination of Gothic and Art Nouveau styles. Also, it offers stunning views of the city from its rooftop terrace.
It is open every day until 3.00 pm and to make your visit as smooth as possible, you can book your ticket online. You can also book a tour, to get to know about this place more and discover its history. Children below eight years can enter for free. For others tickets are 9 euros and with a guided tour 16 euros. They are also offering special prices for schools and bigger groups.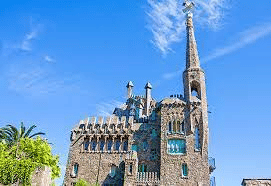 4. The Bakery Escriba
When it comes to delicious pastries, Barcelona is full of great options. There are many cool, innovative and authentic bakeries for every sweet tooth. For example you can visit local churros places or special coffee shops who are offering innovative pastries and cakes. But, if you want to have truly unique experience, we recommend you to visit a fantastic bakery called Escriba. Have you ever known the magical world of Charlie and the chocolate factory? Discover the magic of wonderful sweets in this fantastic pastry shop called Bakery Escriba. You can find this lovely place in the neighbourhood of Gracia. The secret is hidden in the boundless imagination of its owner.
A family owned bakery that was opened in 1906, and got famous because its tasty cakes and pastries. This places is offering also cooking classes and and workshops, making it a wonderful destination for anyone who loves cooking or is curious to learn more about baking. It is also nice entertainment when you are tired of hiking and sightseeing as it helps you to relax and take some time off. Antonio Escribà began experimenting with this art for the first time with bread, then with chocolate and sweets, thanks to the instructions of Etienne Tholoniat, French pastry chef. He won several gold medals and the highest award of the French Community. Among his works stand out:
-Caramel jewelry; -Chocolate mannequins, with skirts covered with meringues, almond paste and chocolate; -Port Aventura mascot pie 6 meters high; -Fresh food for the retransmission of the program Martian Chronicles of 6×4 meters; -A Jaguar F1 made with 10,000 chocolate leaves.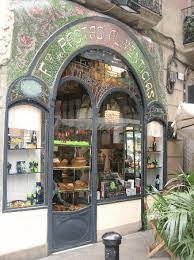 5. Antic teatre
Antic teatre is one of hidden gems and you can find it just in the Born district. It is unique and charming theater and as its name indicates, it is an ancient open-air theater. It is a small and simple bar, but very nice thanks to the charm of the large veranda, with a large tree in the middle, surrounded by chairs and tables. It has welcoming and cozy atmosphere, and hosts a variety of performances, including plays, concerts, and dance shows.
This stunning theater was built in 1985 and is a popular destination for all the ones who love to enjoy plays and performers. In the '50s, in fact, the venue had been home to a cultural association of the neighborhood. In this place there were also theater performances , before the closure of the center in the '80s. Left in a state of neglect for more than 20 years, this restaurant was bought back and renovated in 2003 to be transformed into a bar-theater. Culture and theater are always part of its specialties.
Other Hidden Gems in Barcelona
In addition to these stunning and interesting hidden gems, there are many other places worth for discovering in sunny Barcelona. For example you could visit beautiful Casa Vicens. It has stunning architecture and is a god example of Gaudi`s earliest works. You can find this masterpiece in the neighbourhood of Barcelona. Another cool place that you could visit is Magic Fountain. You can find this breathtaking fountain in the Montjuic district of Barcelona. If you planning your visit carefully, then you can enjoy light and water shows. If you are visiting Barcelona, but you haven`t been in Park Güell, then what are you doing?
This well known park is one of the most famous works by talented architect Antoni Gaudi and it is very popular place for locals and tourists alike. Near this attraction is another one called Bunkers del Carmel. This former military bunkers offers stunning views of Barcelona, you can even see Sagrada Família and Plaza de Catalunya up there. There are a lot of cool places to explore in Barcelona and if you have discovered the most famous ones and you feel like you want to see more, then definitely check out these places. There is always something to do or discover in this lively city and you will never get bored. Also, it is always to come back, as seasons will change and there a lot of events taking place in Barcelona.