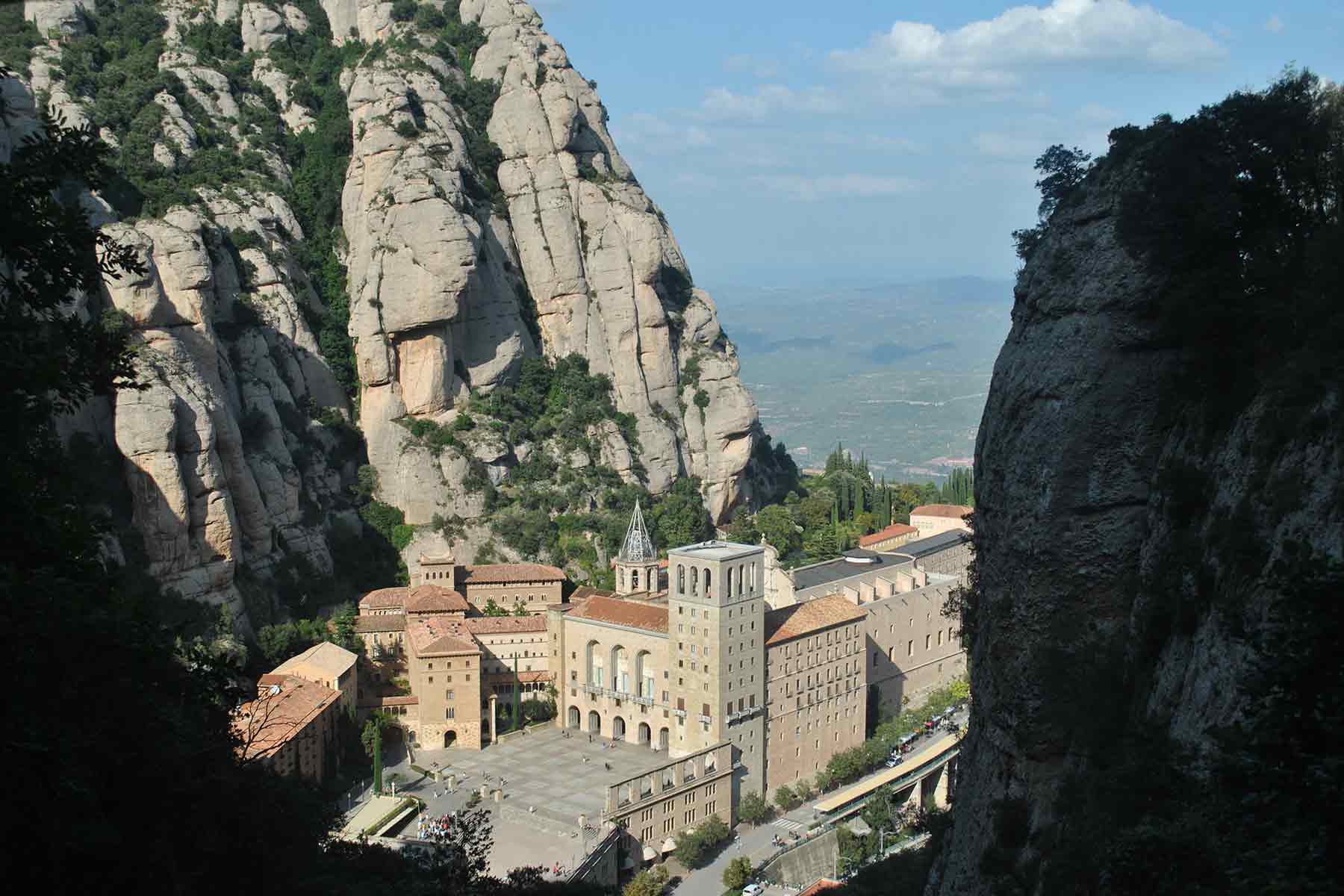 Explore the Beautiful Montserrat in Spain
If you are thinking about a future holiday, then you have to check out the place near Barcelona called Monserrat in Spain. It is a perfect day trip destination for you, if you like hiking trails and beautiful views. Furthermore, if you have already seen the most famous attractions like Sagrada Familia or Park Güell in the city, then you will definitely enjoy visiting Monserrat.
Montserrat (Spain, Barcelona) is a stunning mountain range located just a short drive from Barcelona. It is easy to visit it, as you can reach this place by public transport. Or you can also rent a car if you don`t want to rely on public transport time schedule.
The nature in Monserrat is known for its natural beauty, religious significance, and rich cultural history. This is why many tourists who visit Barcelona, make a stop also at Montserrat. It's definitely a must-visit destination for anyone who is visiting Barcelona or who wants to experience something unique and beautiful.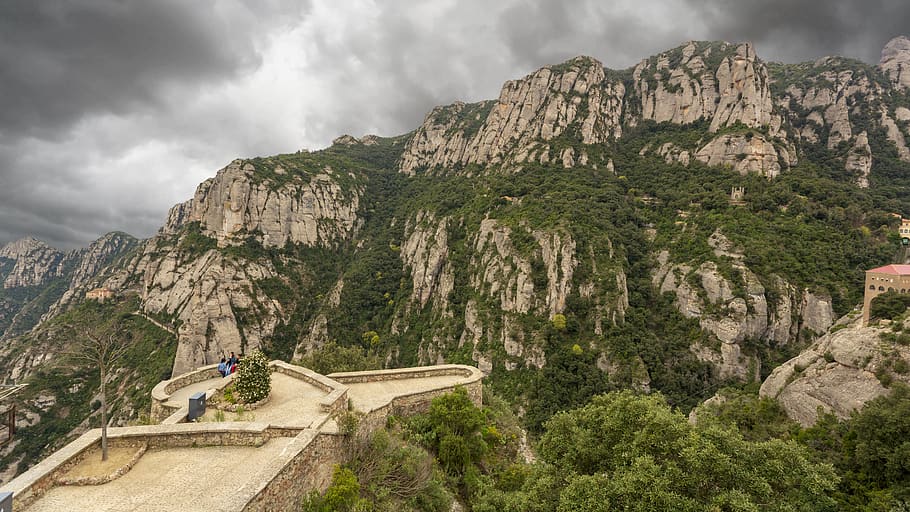 How to reach from Barcelona to Monserrat
There are many different ways to get to Montserrat from Barcelona. However, probably the easiest way is to take the train from one of the train stations in the city.
There are many different train stations in the city. To go to Monserrat you have to pick the Plaza Espanya train station. Over there are trains leaving every hour and the earliest one is leaving 8.26 am. Be sure to arrive on time if you don`t want to wait an hour for the next train.
The train stop from where you have to get off is Monistrol de Montserrat. From there, you can take the rack railway or cable car up to the top of the mountain. It takes around 15 minutes.
The journey itself is breathtaking and provides stunning views of the surrounding countryside. It is a perfect opportunity to take some pictures and videos.
Visiting Monserrat a perfect day trip from Barcelona and we recommend you to spend there the whole day. There are plenty of things to do and explore. So, plan to spend there as much of a travel time as possible.
What to See and Do in Monserrat Spain
Once you reach the top of the mountain, there are several things to see and do. The first stop on your journey should be the Montserrat Monastery, one of the most important religious sites in Catalonia.
The monastery is home to the famous statue of the Virgin of Montserrat, also known as "La Moreneta." It has many names, it is also called the Black Virgin or St. Mary of Montserrat or the Virgin of Montserrat.
This statue is at the centre of spirituality on the mountain. It is a wooden statue from 12th century. The statue is believed to have miraculous powers and is a popular destination for pilgrims.
Besides monastery, there are many other attractions to explore on the mountain. The Basilica of Montserrat is a beautiful church that dates back to the 16th century. It's known for its stunning architecture and beautiful interior. To visit the church you have to buy a ticket or take part of Monserrat Barcelona Organised Tours.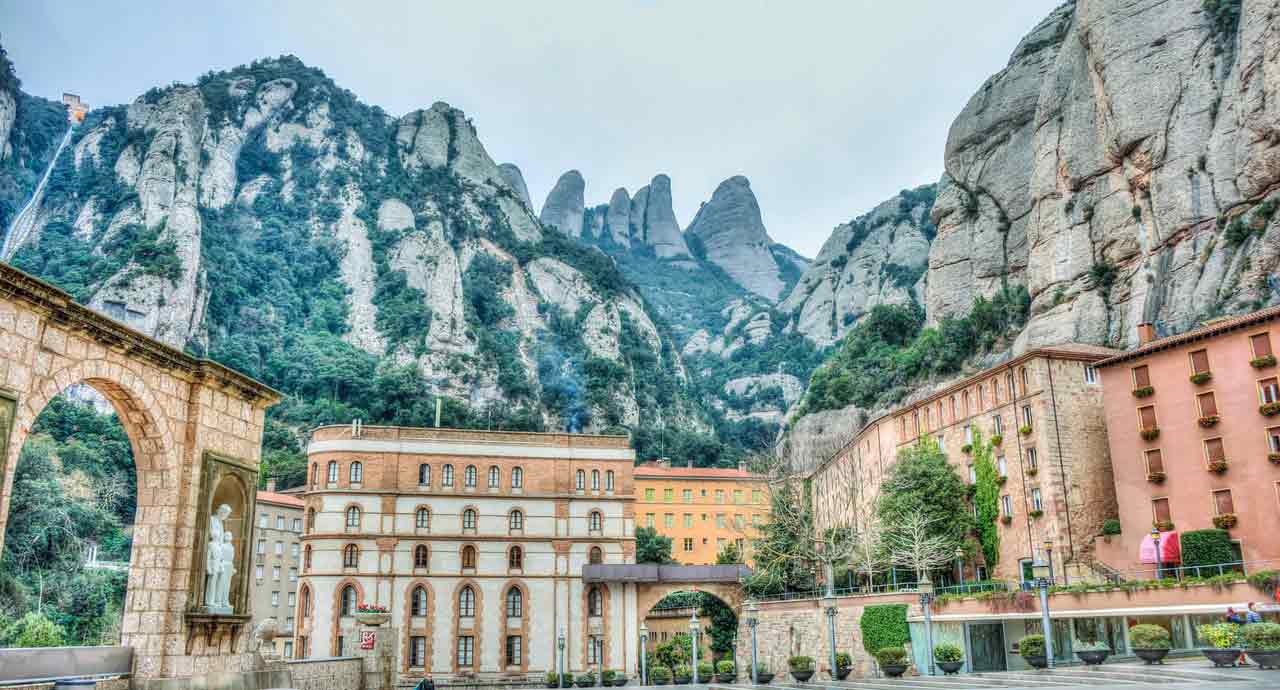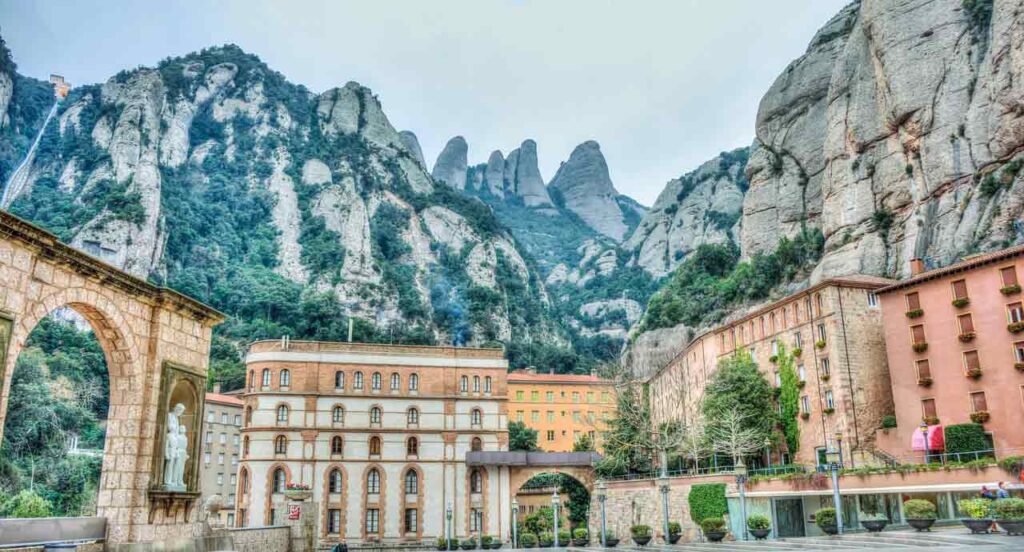 But if you're feeling adventurous, you can also take a hike to the top of Sant Jeroni. It is the highest peak in the Montserrat Mountains. The hike takes around 3 hours and provides stunning views of the surrounding countryside.
Besides that, there are many other hiking trails that you can explore. Each one of them is with different length. Also, some of the trails are more extreme and difficult, so be sure to take a water bottle with you.
For a more leisurely experience, take the Sant Joan funicular to the top of the mountain. From there, you can explore the Aeri de Montserrat, a cable car that provides stunning views of the mountain range. You can also visit the Santa Cova, a small cave where the Virgin of Montserrat is said to have appeared.
There are also some coffee shops from where you can buy tasty snacks or a meal if you feel hungry. Near the Santa Maria de Montserrat you can also find a shop where to buy some lovely souvenirs. The shop includes postcards, magnets and a a lot of other interesting things. You will definitely find a rich selection over there from where to choose.
Practical Information about Monserrat (Spain)
If you're planning to visit Montserrat, there are a few things to keep in mind before visiting Monserrat. First, you have to make sure to purchase your Montserrat ticket in advance to avoid long lines. Summer is very busy season and it is very likely that a lot of people will visit this destination. The ticket includes access to the rack railway or cable car, as well as admission to the Basilica and Museum.
It's also worth noting that the boys' choir of Montserrat is one of the most famous choirs in the world. Sometime they practise or perform in the Basilica. So if you are lucky you may catch one of their performances if you can.
Finally, it's important to budget enough time for your visit. You can see all the attractions in just a few hours. But it's worth taking a full day to explore everything the mountain has to offer.
Therefore you will discover more and have a enough time to explore as many hiking trails as you want. There really are a lot of great options!
In conclusion, Montserrat is a wonderful and breathtaking destination that should not be missed when you visit Barcelona. It has everything that a perfect destination has. The nature over there is gorgeous, rich cultural history, and religious significance. It's a must-visit spot for anyone looking for something off the beaten path.
To get more inspiration what places to visit near Barcelona check out our blog post about Costa Brava. Or if you would like to get to know the history of the city and visit some hidden gems, then check out our Barcelona Walking Tour.