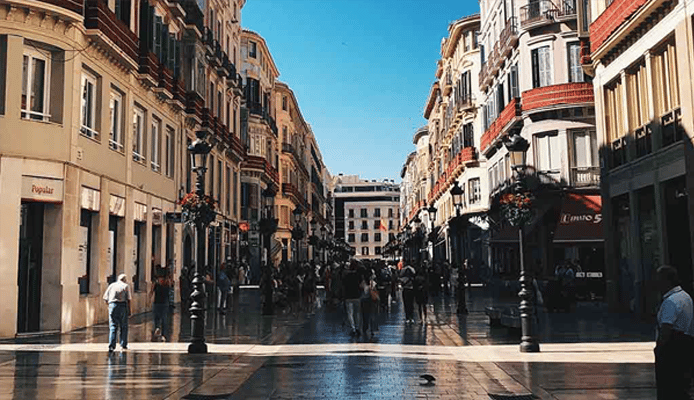 Malaga to do – 10 places you must explore
If you are travelling to Malaga soon you'll be wondering what are the best things to add to your Malaga to do list, here's 10 spots you need to discover.   
1. Explore Malaga's beaches
Malagueta beach is the most central beach of the city. Located only 15-20 min walking by the city center, this is the place where a lot of people come to enjoy the Andalusian sun. With 14km of coast area and a total of 16 beaches, having a will to explore some of them could keep you busy for a while during your holiday. Among Malagueta, some other of Malaga's must see beaches are Playa de la Misericordia, El Palo and one "hidden gem" of Malaga – Playa Peñon del Cuervo.
2. Get lost in Malaga's Mountains
Going on top of Monte Victoria or Monte Gibralfaro will give you unique views over the city. You can enjoy watching over the Mediterranean Sea and even see a one-of-a-kind sunset. Exploring Malaga's mountains can be an experience that will make your trip to Spain more calm and relaxing.
3. Do a sightseeing in Malaga's city center
Taking a walk in the historical center of the city is definitely one of the first things you must cross off of your "Malaga to do list". Exploring the narrow streets of Malaga and getting lost into the labyrinth-like center can be a fun activity to do on your first evening here. And if you are curious to find out more about Malaga and its history, you can book one of our Malaga Free tour here.
4. Visit the Alcazaba of Malaga
The Alcazaba is one of the few still standing relics from the times of the Muslim occupation. You should visit it in Malaga, as it is a complex and beautiful citadel, full of history, with stunning architecture and amazing views over the city. The tickets can cost between 2 and 5 euros, but, like many of Malaga's museums, it is free for everyone on Sundays. 
5. Get to know Picasso through his birth-city
Malaga is the hometown of the world-known artist, Pablo Picasso. You can discover him and his art through visiting the city. Here you can check out his memorial house, and the Picasso Museum, where you can admire 285 works of the artist. And as a bonus, like we mentioned above, most of the museums in Malaga are free on Sundays, so it can be a good time to visit them if you're traveling on a budget.
6. Taste the local flavours through tapas
Tapas are small and cheap portions of food that people usually have before going out or even with drinks. If you want, you can order a few tapas at a time and have a full meal consisting of different types of food of your choice. Isn't that cool? If you are curious about the tapas in Malaga, we have a few places in mind for you. Casa Lola is one of the most popular tapas places in Malaga. Its fame has an explanation: the food is delicious, cheap and some portions are larger than a regular tapa size. Another one you should check out is Picasso Tapas Bar. It is situated right in the main square of the city, Plaza de la Merced, with tapas that go around 2 euros/portion. 
If you are more curious about Malaga's food you can book your tapas tour here, and let us help you get that real local experience.
7. Check out Antonio Banderas' restaurant
Another fun fact about Malaga that you will find out from this article is that it is the home of the internationally-known actor, Antonio Banderas. Whether you are a fan or not, if you are in Malaga, his restaurant is for sure a place to check out. El Pimpi is Malaga's largest and most famous restaurant. It is specialized in wine and tapas and it is known to have one of the best cuisines around here. 
8. Try the Spanish drinks in animated bars
Going out in Malaga usually starts with having some drinks in a bar. Chester&Punk is a themed bar with old-school rock-punk and alternative music and the vibe of a NYC cocktail bar. Our second pick is Morrissey's Irish Pub. In here you can also have a bite in need, as they serve burgers, nachos and all sorts of finger foods and fast foods of your choice. Also, on Wednesdays they are playing live music, so it is definitely a place to check out. You can check both of these places, plus a few others, if you join our pub crawl. 
9. Spice up your night in Spanish clubs Spanish drinks in animated bars
Malaga's nightlife is probably one of the main reasons why tourists like this city so much. So if you are interested in some places where you can hear and dance on reggaeton and bachata rhythms, here are our top picks for you. Gallery is one of the largest clubs available in the city center. This is the place where usually young people and teens gather to party. The music is mostly Spanish songs and reggaeton. Mirror is a club somehow smaller than Gallery, but with a lot of personality. In here you can find people of all ages and can party until the sunrise as the club is usually open until early in the morning. 
10. Dance on international rhythms in Malaga's clubs
Sala Gold is one of the most popular clubs in the city center. With occasionally themed-parties and music for all tastes, it can be the pick for you for a night out in Malaga. If you are more into club, electro music, Bubbles is the place for you. In here you can find a lot of international people and can party until the sunrise. Last but not least, Safari. Safari is a small afro-american club that plays international electro music as well as afro-american and caribbean beats. If you are curious about checking it out, you can do it also by joining our pub crawl.