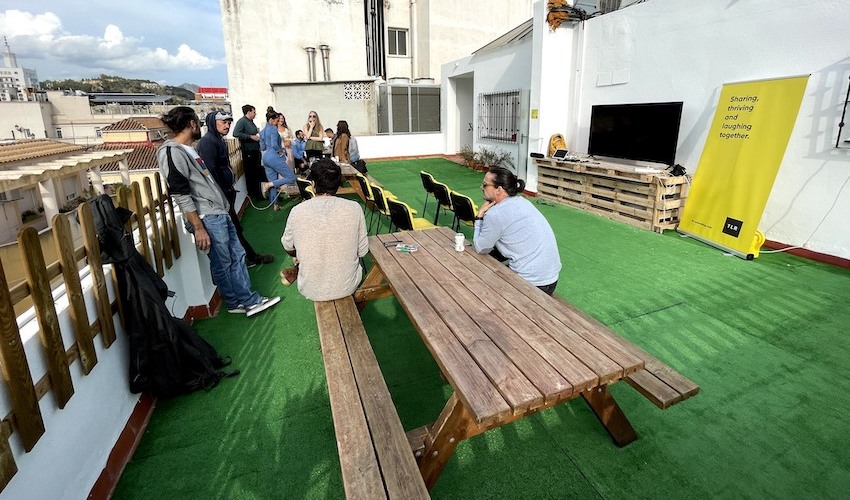 Coworking malaga centro: A space that becomes a family
Did you search for Coworking malaga centro?
These 3 words become imperative when you are looking for the perfect location in Malaga. Coworking Malaga Centro, most of the startups look for these in a coworking space. Yet, there is much more that you can get from a coworking space like TLR.
The city center or el centro de negocios is of easy access ¨facil acceso¨. Nonetheless, there are many other benefits that a coworking space like TLR can offer. In the previous article, we spoke about the beginnings of TLR. Here we would like to continue by telling more about the present and the future of TLR.
Here are some of the other important answers and tips we got from Ben. 
What has been the biggest challenge for TLR as a company, and how did you overcome it?
T
COVID-19. Since we opened in 2015, we opened a second space late in 2017 and started working on opening a third early in 2020. Then COVID-19 happened, which obviously stopped our efforts.  Just in time – to open a third location. 
Along the way of the horror year 2020, it led to us even closing our second space. Being back to square one, with one location posed various challenges. 
We grew from a small cozy space into becoming a proper coworking operation including a heavy fixed cost structure coming with it. As our income collapsed from one month to another, we had to be creative to negotiate with landlords and providers to cut down on cost wherever we could. It never came through stronger than in 2020, how much of a family TLR really is. 
Most of our members were happy to keep paying their full subscription or contribute with a part to keep us running, organize online events and be there for each other, even though we all worked from home. In the end, I'm actually glad that COVID-19 happened as it really forced us to optimize our cost structure. 
And to take harsh decisions like closing down a less profitable space and focus all strengths on excelling at our main location. Now we are doing better than ever before. When you look for a coworking malaga centro keyword on google you surely find us as well. 
What's the secret to your coffee?
Haha, the coffee indeed is quite special. We collaborate with Santa Coffee, a cafe and roastery at the same time, just around the corner from us in Málaga's artistic Soho district. We get freshly roasted full Colombian coffee beans, which we then grind by hand at TLR to make energy-providing filter coffee.
Do you prefer Ping Pong or Boxing in TLR?
You do find both, a ping pong table and a punching bag at TLR, but I would go for ping pong anytime. Hardly a day goes by when I don't play at least one match to get away from my desk a bit.
Why Malaga?
Another coincidence life had up its sleeve for me. In Spain, I landed first in Granada, when coming over from Austria for my Erasmus back in 2008. Since then I moved to Málaga in 2010 to start my first real job at Oracle, whilst finishing off my Master's studies at a remote university in Vienna. I did not expect my 6 months Erasmus to stretch into 13 years, but yet, here I am. 
When looking at why an international coworking space works well down here in Southern Andalucía, we can observe that over the last 10 years Málaga has developed into a number 1 location for freelancers, entrepreneurs, and digital nomads worldwide. We recently wrote up a blog article on our TLR blog, which sums up all the great initiatives Málaga pushes as a city to attract international talent to the Costa del Sol, where you'll find an unbeatable balance between work, cost, and life.
As we finished the interview we headed for a coffee and started turning the knot of the coffee grinder, a process that has been defined as therapeutic by Ben's girlfriend, which we actually experienced and confirmed its effectiveness.
If you'd like to know more about The Living Room Coworking, feel free to check out their website. After working there ourselves with the Flamingo tours and trips team for various months, we highly recommend it!