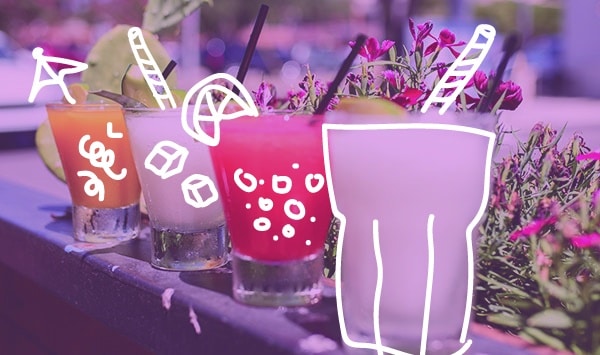 5 Best Cocktail Rooftop bars in Malaga
Here's the Flamingo selection of the 5 Best Cocktail Rooftop bars in Malaga ; Costa del Sol is well-known all around Europe for its animated nightlife. In particular, Malaga offers a unique variety of venues for each age and lifestyle. Whether you are looking for a fancy rooftop bar or an exciting disco, Malaga has it!
In each corner of the city center, there is a place for having fun at night, so you will never get bored. Nevertheless, sometimes it might be hard to choose, mostly when you have limited time to spend on vacation.
Thus, with this article, Flamingo Tour&Trips provides some recommendations regarding the best venues in the city center for enjoying great cocktails.
#1 of the Best Cocktail Rooftop bars in Malaga: Chester & Punk
We start by advising one of our beloved cocktail bars in the historical center!
Chester & Punk might be the perfect choice if you look for exciting drinks, great vibes,  and a pleasant atmosphere. It also achieved the award of being listed in the "Top Cocktail bars 2020 in Spain and Portugal".
#2 of the Best Cocktail Rooftop bars in Malaga:
AC Hotel Malaga Palacio
It is listed among the best rooftop bars in Malaga, and by looking at its pictures, there are no doubts regarding it! This elegant rooftop has a fantastic pool and provides an outstanding view of the city of Malaga.
They offer handcrafted cocktails, delicious wines, and occasionally, also live events.
It has high requests, so make sure to reserve a place!
#3 of the Best Cocktail Rooftop bars in Malaga:
Speakeasy "The Pharmacy"
Among the best-rated and premier cocktail bars, we have the "Speakeasy" The Pharmacy. It has a colorful design, a lovely intimate atmosphere, and a friendly staff.
Not to forget, cocktails are amazingly good, with a touch of classy!
#4 of the Best Cocktail Rooftop bars in Malaga:
Hotel Molina Mario rooftop bar
This rooftop bar is on top of the Molina Lario Hotel is one of the best terraces for enjoying a cocktail at sunset in the historical center! One of the pluses in choosing it is given by the view directly on the Manquita, the cathedral of Malaga. Do not miss their Top's signature cocktails!
#5 of the Best Cocktail Rooftop bars in Malaga:
Mañana cocktail bar
It is one of the most popular venues in the city's old town. They have a retro design with chilly beach and surf vibes! They offer a wide variety of cocktails and a vibrant atmosphere.
#La terraza de Valeria
Are you looking for a romantic spot to enjoy a cocktail? We highly recommend La Terraza de Valeria! It has a spacious terrace with a lovely Mediterranean design.
Enjoy one of their cocktails while having a nice view of the city from above!  In particular, you can admire the skyline, the port, the Alcazaba, and Gibralfaro.
#Tips for tourists: Best Cocktail Rooftop bars in Malaga
Spanish nightlife has a different schedule than the rest of Europe. Everything starts later! Before 22.00, the atmosphere will be pretty quiet all around the city center, since the Spanish are still having dinner at that time. Nevertheless, they live the nightlife till morning, so you might have breakfast as well before going back home.
The dress code is usually not mandatory, with some exceptions regarding nightclubs. However, always check the place you are planning to go, and why not, try to be at your best!
Cocktails usually cost from five up to twenty euros. That depends on the services provided to them! Tapas are often not included, but they mostly accompany drinks with munchies, such as olives or chips.