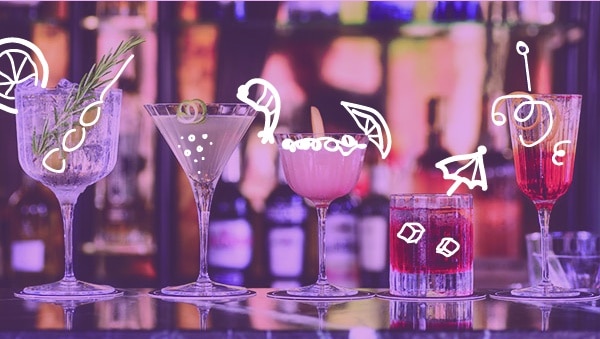 Best Cocktail Rooftop bars in Barcelona
Best Cocktail Rooftop bars in Barcelona: For the largest part of the population, traveling is one of the best things to do in life. Seeing new places and living incredible experiences are, most of the time, things worth living for. However, whenever you find yourself in a new place, you can have a little bit of a struggle at first. Sure, everyone that goes to Barcelona will at least see "La Sagrada Familia" and maybe go to explore the Tibidabo mountain. But what are you doing with the rest of your time? 
It can be a waste of time to spend your day inside your hotel room Googling "Best Bars in Barcelona", "Cocktail bars near me", "Rooftop Bars near" in order to find your perfect place to spend your fun vacay nights. This is why we did the research for you!
Here's a selection of our top picks for Best Cocktail & Rooftop bars in Barcelona:
1. First Cocktail Bar Barcelona
If you are looking for a nice and intimate place to have some drinks and socialize, this is the place for you! First Cocktail Bar Barcelona is a rather small place, but with lots of personality, as it has a little bit of personality from all its previous customers. Enjoy a well-done cocktail, listen to some live music and leave your mark behind in this cozy and creative space!

Pics source: Tripadvisor
2. Old Fashioned Barcelona
If you are interested in living your Barcelona experience in an "old-fashioned" way, we have a place for you! Old Fashioned Bar in Barcelona is the perfect cocktail bar for old souls and 20's enthusiasts. It combines masterpiece drinks with an idyllic atmosphere, being the perfect spot for an unforgettable experience while traveling the old city of Barcelona.
3. Rooftop Ohla
Looking for a classy, extravagant place to spend your evening? Rooftop Olha can be the answer to your request! A rooftop bar provides you with an incredible view and the atmosphere of a luxurious vacation. Enjoy the city, the lights, the swimming pool, and the cocktails. Let this rooftop bar be the star of your night in Barcelona!

4. Mood Rooftop Bar
We continue our list with another elegant rooftop terrace. With a 4.4 stars review according to Google and 4.5 according to Tripadvisor, MOOD Rooftop Bar is definitely a place to check out. Good food, a good mood, a rooftop view, and a bar with various drinks and cocktails can help spice up your stay in Barcelona.

5. Azimuth Rooftop Bar : One of the Best Cocktail Rooftop bars in Barcelona
Conveniently located close to the city center, Azimuth Bar will not only give you a rooftop
view over the city, but you will also have premium seats with a direct view of the Sagrada Familia. What more can you wish for? With a variety of drinks and cocktails, it can be the perfect place to be while the sun is setting and the Spanish nightlife is rising. 
These have been our top 5 picks for Cocktail Bars & Rooftop terraces in Barcelona! And if you're ever in there, our Flamingos are waiting to show you around! Book your free tour or pub crawl in Barcelona and Make it Memorable!